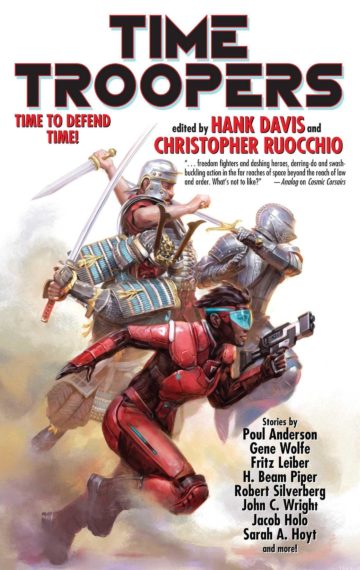 $16.00
Buy Now
Editor:

Hank Davis, Christopher Ruocchio

Available in:

Print

Pages:

480

Published:

April 5, 2022
NEW AND CLASSIC STORIES OF TIME TRAVEL MILITARY SF
BATTLEZONE: ETERNITY
Once, military actions were entirely two dimensional, confined to the surface of land and sea, but then submarines and aircraft added a third dimension, vastly extended by spaceflight.
Now, consider that if time travel is possible, the fourth dimension of time opens up new possibilities for combat, necessitating new defenses, new strategies and tactics. A battle that was once decisively won might be refought, or a narrow victory might be subtly tilted to the other side.
Never mind the history books, they're only works in progress.
There might be even more than four dimensions involved, if parallel universes and alternate realities exist and can be accessed.
Imagine a universe where Rome never fell and its troops want to do something about our universe, where it did fall. Or another where more recent wars turned out very differently. Battle is a recurrent motif in the Earth of this universe, and would alternate realities be different or all too similar, with the tune the same, but different lyrics.
Supplying the lyrics for spacetime combat in these pages is an all-star general staff including Robert Silverberg, Poul Anderson, Fritz Leiber, John C. Wright, H. Beam Piper and more.
It's zero hour, in whatever time stream, so grab your time-appropriate weapon, be it sword or ray blaster, buckle on your general issue timeporter belt, and follow the Time Troopers into action across strange aeons!
Praise for previous anthologies edited by Hank Davis:
Cosmic Corsairs:
"Who doesn't like space pirates? (Well, their victims I guess, but that's beside the point.) . . . Hank Davis has a fine sense for choosing a wide mix of stories, and this book is no exception. No story is like another, yet they manage to form a whole greater than the parts. From sapient ships to piratical sibling rivalry, pirate detectives to ingenious captives seeking freedom, from alien biology to orbital mechanics, the stories share some of the same elements—pragmatic thinking, moral complexity, loyalty, and betrayal. Definitely a fun one."
Analog
In Space No One Can Hear You Scream:
"[T]he 13 tales in this collection blend sf with horror to demonstrate the resiliency of both genres . . . offers strong tales by the genre's best storytellers."
Library Journal
"[F]irst-rate science fiction, demonstrating how short stories can still entertain."
The Galveston County Daily News
A Cosmic Christmas 2 You:
"This creative and sprightly Christmas science fiction anthology spins in some surprising directions. . . . A satisfying read for cold winter evenings . . . a great stocking stuffer for SF fans."
Publishers Weekly
As Time Goes By:
"As Time Goes By . . . does an excellent job of exploring not only romance through time travel—relationships enabled or imperiled by voyaging through time—but the intrinsic romance of time travel itself. . . . The range of styles and approaches is as wide as the authors' sensibilities and periods might suggest . . . full of entertaining and poignant stories . . . "
Alvaro Zinos-Amaro
IntergalacticMedicineShow.com
About Star Destroyers, coedited by Christopher Ruocchio:
". . . spectacular space battles and alien contacts . . .  themes of military ethics, the uses of artificial intelligence, and the limits of the capacity of the human mind. . . . it is the human interactions and decisions that ultimately drive the stories. . . . will appeal to fans of military and hard science fiction and any readers fascinated by the possibilities of space travel."
Booklist
". . . stories of giant spaceships at war, at peace, and in the often-gray areas between. . . . a worthy addition to a long tradition of ship-based fiction, and its authors portray captains, arcane astrogators, and civilian child passengers with equal depth. It's recommended for fans of military SF and space adventure."
Publishers Weekly
". . . you'd probably expect some tight, action-filled space opera stories of giant space battles . . . and there's some of that. But there are also espionage stories, rescue missions, political conflicts, alternate histories, even a few humorous tales. . . . each author took the premise in a different direction . . . if I had to identify one common feature to all the stories, it would be that they're all fun. . . . Like it says, big ships blowing things up. What's not to like?"
Analog