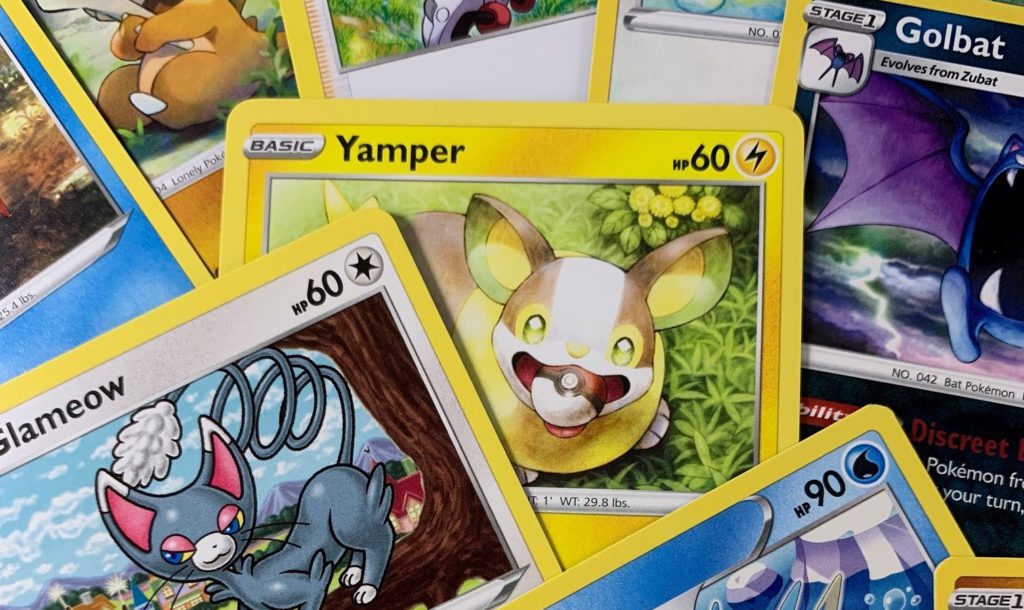 Several weeks ago, Jacob made the fateful choice to show me a random article about the insane state of today's Pokemon card scene.
Little did he know what monsters he was about to awaken. 😁 (Yes, plural.)
I've been a Pokémon fan since age 12, when the series and associated games first started coming to the US. I saved up my hard-earned preteen allowance to buy a Game Boy Color solely to play the Pokémon video games and then spent everything that was left on Pokémon cards. My enthusiasm waned when I hit high school and decided I was grown up enough to put away childish things (😐), but once I stopped feeling so full of myself in adulthood, my love for the series returned.
To this day, I still play Pokémon Go like it's that one week in July 2016 when the game first came out and there was such a sense of joyous community that we all thought Niantic had singlehandedly achieved world peace through Pokémon. (Ha.) There are Pikachus hidden all over my house. The Detective Pikachu movie was a high point of my adult life.
I hadn't touched my cards in 20 years, though, and figured that, if I was to offload them, now was the time to do it.
For the uninitiated: Pokémon card collecting right now is bonkers, y'all. A combination of pandemic-inspired collecting (a hobby easy to do from home … especially with stimulus checks), scalpers rushing stores to buy up stock for sale at inflated prices, and all things Logan Paul have united to send prices for the cards skyrocketing. (For perspective, one of my comic shop pals decided to bite the bullet and finish his Pokémon collection last Feburary. At that time, it cost him $400 to do so. The same cards today, post-pandemic, would have cost him several thousand. 😳)
My collection was modest, but given that I did all my collecting during Pokémon's earliest days, I knew I had at least a few cards that would sell well, so I started researching to figure out how best to price them for auction.
And Y'ALL.
Turns out there's a whole card collecting culture that I was wholly unaware of.
Pokémon Investing, for example, is A Thing, and involves strategizing which sets, packs, etc. to buy and keep in anticipation of their value rising. (Which it absolutely does with Pokémon cards. Unopened Base Set packs – single packs, from the first release – can go for $200-$400, and even semi-recent booster packs sell for at least 3x their original market price. 😳) There are controversies over the ethics of pack-weighing before selling (because heavier sealed packs are more likely to contain holofoil cards). There are even card types from the generation I collected that I'd never even heard about – namely the shadowless Base Set cards, which are an early printing that lacks a shadow behind the focal picture on each card. (The shadows were added in subsequent printings to enhance the look of the card.)
All this to say, the more I learned about the modern collecting culture, the more it fascinated me, and the more I wanted to get back into it.
I started that week wanting to sell all my cards and ended the week ordering bulk lots off eBay and Facebook Marketplace to jump start my collection. 🤣
I don't plan on being a hardcore collector. I'm in it mostly for the fun and sense of childish, nostalgic glee the series instills in me, so my collection's basically going to be Pikachus, cards with art I like, and Pokémon with ridiculous, silly designs and punny names. (In accordance with this, my first goal is to build up my Perrserker horde.) Plus, frankly the idea of having expensive cards in my house stresses me out, especially given the frequency with which Nova likes to put her butt on whatever I'm paying attention to at any given time. 😬
Still, it's been enormous fun to return so hard to a hobby I hadn't thought about in decades, and to find such a fascinating new branch of it.
But it didn't end there.
This is where the plural "monsters" comes in.
Part 2 to come! 😁
***
Note: Holo Writing is a participant in the Amazon Services LLC Associates Program and, as such, may earn a small commission from any product purchased through an affiliate link on this blog.