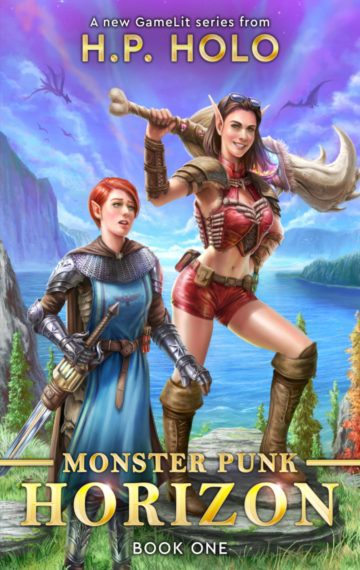 $4.99
Buy Now
Read A Sample
See The Reviews
See The Full Series
Narrator:

Tess Irondale

Available in:

Kindle, Kindle Unlimited, Audiobook, Print

Pages:

183

Duration:

5 hours and 24 minutes

Published:

October 14, 2021
Monster Hunting for Fun and Profit!
Pix and Jaz are two girls who just want to hunt monsters, craft armor, and pay off their college loans—but when a colossal new monster falls through the portals in the Dazzling Skies, it'll take all their skills to survive it.
Their skill levels? Slightly above noob.
Fortunately, they have their oversized swords, a lot of sass…and one giant monster friend who might help them out.
For a price…
About the Series: Monster Punk Horizon is an exciting new fantasy comedy for fans of the Monster Hunter games and kick-butt ladies fighting monsters for fun and profit! GameLit readers will enjoy the focus on action over stats.
---
What Others Are Saying
---
"This book made me want to game in this world. The author has an incredible gift for smart, witty names, and vivid description. The characters are appealing, and carry you through this light, fun adventure with tremendous energy."
Jane Lindskold
New York Times bestselling author
"I had to look twice when I spotted this book. I am a huge Monster Hunter fan. I've played for thousands of hours for well over a decade and a half. So to say I was excited to find a book about living that kind of life was an understatement! This book was an adventure. It was exciting, suspenseful, and I loved the characters. The action kept me flipping those pages as fast as I could. I loved it. This book brought so much nostalgia and I couldn't wipe the smile off my face."
Nina Diab
Amazon Reviewer
"Wow! This is an intense series starter … full of nonstop paranormal action and battles. H.P. Holo has an imagination that is totally out of control and I love it! I cannot wait for Book Two!"
J Young
Goodreads Reviewer
"HILARIOUS FUN! That's the best way I can describe this book! I haven't read many books that make me audibly laugh out loud, so I'm very glad I gave this book a chance, because now I can add it to that list! SO. MANY. FUNNY. MOMENTS. As someone who enjoys nerdy, Dungeons-and-Dragons-inspired adventures, this was an absolute thrill to read. The content was very geared for nerdy fans, but the humor and relatable characters made it easy for any reader to understand and have a good time reading!"
Melisa
Goodreads Reviewer
---
Other Books You Might Like
---
---