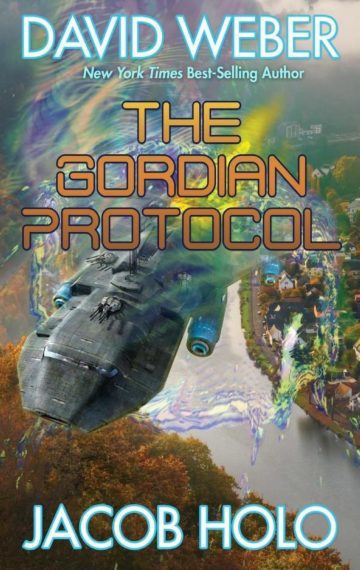 $27.00
Buy Now
Read A Sample
See The Reviews
See The Full Series
Publisher:

Baen Books

Narrator:

Gabriel Vaughan

Available in:

eBook, Audiobook, Print

Pages:

558

Duration:

18 hours and 53 minutes

Published:

May 7, 2019
NEW STANDALONE NOVEL FROM NEW YORK TIMES BEST-SELLING AUTHOR OF THE HONOR HARRINGTON SERIES, DAVID WEBER
A Man of Two Worlds
Doctor Benjamin Schröder was far from a man of action. In fact, he was a history teacher—Chairman of the Castle Rock University history department—and if his life wasn't perfect, it was close. Until, that is the discussion of his star student Elzbietá Abramowski's dissertation on Operation Oz, the Pacific Allies' invasion of Vladivostok, staged through occupied Japan to meet their Imperial German allies, was brutally interrupted.
The psychotic episode that turned his entire world upside down struck with absolutely no warning, and it was more terrifying than anything he should have been able to imagine, leaving him with a complete, incredibly detailed set of false, nightmare memories. Not just of his own life, but of an entire, ghastly world in which Operation Oz had never happened. In which millions of helpless civilians had been systematically slaughtered in extermination camps that were horrific beyond belief. In which there was still a Soviet Union. In which the Chinese Communists had succeeded, the Korean Peninsula had been permanently divided, thousands of nuclear warheads had spread their deadly threat across the entire Earth, and the Middle East was a festering sore of bloodshed, fanaticism, and terrorism.
The knowledge that those false memories had come from somewhere inside his own psyche was terrible, but with the help of Commander Abramowski, a highly decorated Navy fighter pilot who'd been forced to deal with her own PTSD after crippling combat wounds invalided her out of service, he's put his life back together. With Elzbietá's support, he's learned to deal with the nightmares, to recognize that they are onlynightmares that can't—and won't—be permitted to rule his life.
Until, that is, a lunatic named Raibert Kaminski knocks on his door one afternoon with an impossible and horrifying story about alternate realities, time travel, temporal knots, and more than a dozen doomed universes which must inevitably die if the temporal storm front rushing towards the distant future isn't stopped. He has to be lying, of course. Or completely insane. But what if he's not a madman after all? What if he's actually telling the truth?
That possibility is the most terrifying thing of all. Because if he is, the false memories aren't false after all, and that other world is just as real as the one Schröder has always known. And if that's true, Benjamin Schröder is about to become the greatest mass murderer in human history, because he has to choose. Whether he acts or refuses to act, Benjamin Schröder is the one man who will decide which universe lives and which dies, along with every star system, every galaxy—and every single human being—in it.
Including the woman he's discovered he loves more than life itself.
At the publisher's request, this title is sold without DRM (Digital Rights Management).
---
About The Gordian Protocol
---
". . .[A] fun and thrilling standalone from Weber and Holo. . . . time travel enthusiasts will enjoy the moral dilemmas, nonstop action, and crisp writing."
Publishers Weekly
---
About David Weber
---
"…a balanced mix of interstellar intrigue, counterespionage, and epic fleet action…with all the hard- and software details and tactical proficiency that Weber delivers like no one else; along with a large cast of well-developed, believable characters, giving each clash of fleets emotional weight."
Booklist
". . . moves. . . as inexorably as the Star Kingdom's Grand Fleet, commanded by series protagonist Honor Harrington. . . . Weber is the Tom Clancy of science fiction. . . . His fans will relish this latest installment. . . ."
Publishers Weekly
---
Other Books You Might Like
---