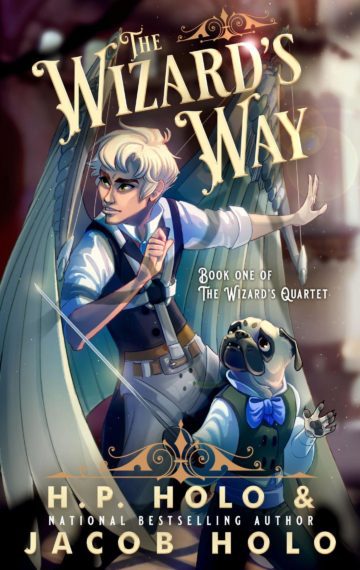 $5.99
Buy Now
Read A Sample
See The Reviews
Available in:

eBook, Print

Pages:

427

Published:

September 22, 2016
Monsters. Murder. Swashbuckling pug butlers.
J. Chaucey Thatcher has a monster inside him, but this is the least of his worries.
A murderer prowls the Iron City, slaying inventors. An angry mob storms close behind, blaming wizards. Any they find, they burn alive.
Chaucey is an inventor. He is also secretly a wizard, and the only person who can help with this secret was just murdered before his very eyes.
But when it comes to investigating, Chaucey is as dogged as his best friend is dog. With the help of his loyal pug butler, his sparky (almost? maybe?) girlfriend, and a sleuth of rambunctious bears, he has vowed to unravel the mystery of these murders and save the city from the grips of terror.
But the monster inside him burns for escape.
Will he save the Iron City? Or will the monster destroy it first?
A smart steampunk adventure for fans of the Parasol Protectorate (Gail Carriger), and the Cinder Spires (Jim Butcher) series!
---
What Others Are Saying
---
"The Wizard's Way is a lively and engaging novel. It's so much fun that's it's easy to overlook how much thought and detail has gone into the underlying world and its complex politics. I'd definitely read more by these authors."
Jane Lindskold
New York Times bestselling author
"This masterfully written … work is a veritable love letter to steampunk fans. Not only does it beautifully present its story and genre, it does so with enough panache and humor to temper the non-stop action into a story that is difficult to put down. In short, if you love worlds and stories such as Foglio's Girl Genius, then you're going to love this."
Curtis
Goodreads Reviewer
"The Wizard's Way is a stellar example of a debut novel for an author who knows they have a story to tell and isn't afraid of pushing outside structured convention to do it.
H.P Holo knows enough of what she wants to say to her audience and who exactly her audience is to balance a very real feeling sense of floundering urgency to her main protagonist with also throwing him headlong into the throes of confused, eager first love …
The story itself hits on strong themes and isn't afraid to toss complex emotions and thoughts into the mix. The characters themselves react to it all with a healthy balance of realism and fittingly idealized traits that solidify their roles in the plot and in their dynamics with each other … It is a strong hand to deal on a debut, and I look forward to seeing if the rest of the series will continue with the same energy."
Jacob Sindic
Amazon Reviewer
---
Other Books You Might Like
---
---