Ok, I've gotta thank James Young for his patience, 'cause he sent me an audio code for this book years ago and I've spent all that time and multiple listens trying to articulate a review for this thing.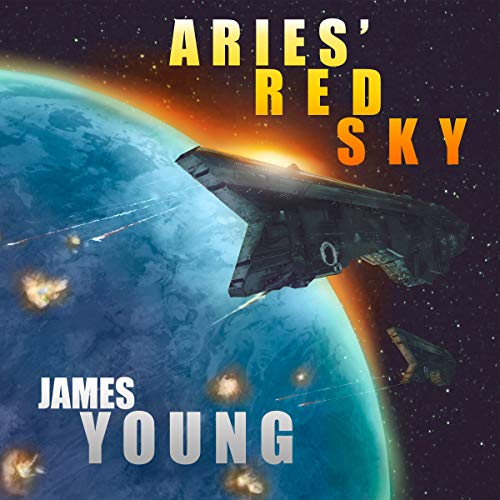 Aries' Red Sky is a grand, galaxy-spanning take of interstellar politics, war, and the humans that are tossed about in the resulting maelstrom. On one side is the Spartan Republic, which emerged after fleeing the earth in the wake of an oppressive empire. That empire has since been lost to the ages, but some of its spirit remains in The Confederation of Man, which is Earth-centric in manners beyond the mere location:
It holds that all people deriving from Earth belong to Earth—i.e. under the Confederation's thumb.
And the Spartan Republic has no interest in belonging to anything but itself.
One of the things that made Aries' Red Sky so difficult to review is, simply, how complex it is. This is not a pew-pew special effects vomit space opera. This is a "You meet characters from both the Spartan Republic and the Confederation and get to like them on a personal level before realizing, 'Oh, sh*t … they're gonna war, aren't they'?" space opera. It's also a "Yes, the Spartan Republic is generally more sympathetic because of its willingness to fight for its freedom, but there are some real scumbags among its political leaders, too, and here's a look at how they're willing to stab the rare competent politicians to benefit themselves, even if it'll literally result in interstellar war" space opera.
There is tension in every single corner of this novel, and if you're familiar with Young's writing, you know he's going to milk that for all the drama it's worth. He has a talent for writing heart-wrenching heroic sacrifice and death scenes, and he knows it, and I imagine he allows himself a little devilish grin every time his readers notice.
The strength of this book, though, is that the drama is never restricted to one "good guy" side. Even if the reader is more inclined to root for the Spartans on a philosophical scale, the very human sufferings of both its and the Confederation's individual characters bring a very realistic and wrenching perspective to the conflict—especially since the ultimate point of the book's conflict isn't to win a war, but to stop a war from happening. The amount of sacrifice that goes into merely avoiding galaxy-spanning war is much of the tragedy of this book, especially when one considers that some of the tension is derived from simple misunderstandings and conflicts of military standards. (One side, for example, has a stricter definition of how surrender works, especially with regards to how captured enemies are expected to behave, and when the other fights back without knowing that … unintended trouble ensues.)
Even though the characters' goal is to prevent a war, the book carries a heavy theme of "War is hell, and it's especially hellish in vacuum."
All that said, it's not a book you read at night for fun while nodding off to sleep. There's lots to keep up with narratively, militarily, politically, and interpersonally, and the complexity of it is delicious for people who are looking for that sort of book.
But it's not even close to an easy read.
Still, Young balances the heaviness of the darker conflict with some astute, intelligent, sometimes coy worldbuilding, and some fun easter eggs. (The Lin-Manuel Miranda fan in me was delighted to meet one character attending a Lin-Manuel Miranda Day performance … at a theatre thousands of years in the future on the other side of the galaxy.) There are also elements of the political worldbuilding that are clearly inspired by the frustrations of modern politics—there's a limitation on how many people from the same political family are allowed to serve, for example, and formal duels are an accepted method of resolving grievances—but it's never overbearing, and in general the political squabbles are unique to the context of the setting, rather than direct commentaries on modern politics.
Finally, I'd be remiss if I didn't lavish some praise on Jennifer Jill Araya's audio narration. She handles a variety of accents and characters—and songs—with aplomb, and while the basic text of Aries' Red Sky is engaging, I have to say that she makes the audiobook my preferred version.
Also, a fun bit of trivia: Not only does Jacob's name have a cameo near the end, but his character sings, and it's a song about a unit called the Obstinate Otters. (There's a reason these two magnets are prominent on my fridge.)
All in all, Aries' Red Sky is a great book, and for readers of complex military space opera, it's a genuine treat.