OMG Y'ALL. THIS SHOW.
Jacob and I actually watched Arcane when it first aired back in November, as I'm an enormous fan of all things animation and most things League of Legends (except other players 🤣).
But I recently finished what is bound to be my first of many re-watches, and so am properly primed to fangirl all over it. 😄 (Grab some popcorn and maybe some other provisions, 'cause I'm about to fangirl hard. 🍿)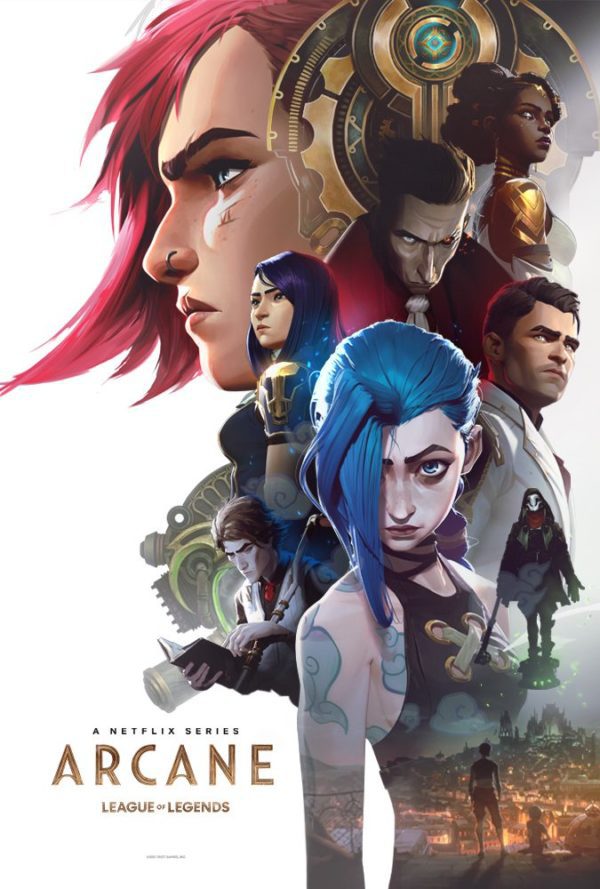 Though Arcane is based around a cast of champions from League of Legends lore, it's written in such a way as to be accessible to people who know nothing of the game. On its simplest level, it tells the story of two sets of characters, one from the privileged upper city of Piltover, one from the impoverished lower city, which hopes to separate into its own nation of Zaun. Separating both further, and yet bringing them into closer into conflict, is the emergence of hextech – magic harnessed through scientific processes – and a particular concentrated gem that could be disastrous in the wrong hands …
Admittedly, this description makes it sound rather bland, but the charm of Arcane is found not in its basic premise, but in the artful execution of that premise and the characters that do the executing.
AND Y'ALL. THE WRITING. While I fully admit I often speak in hyperbole, it is no exaggeration to say that Arcane is one of the single best-written TV shows I've ever watched, animated or otherwise. 😮 Every single beat of the story comes together like a perfectly-planned puzzle, and the cast of characters is so realistically defined that, even though most are derived from little more than cool artwork and some sound bites, all of them feel like living, breathing creations. Moreover, they're all morally complex, to the point where Arcane fan groups frequently bubble with discussion of who the actual heroes and villains of the story are. For every moral point made in the story, there's usually a parallel character making a contrarian point.
The story itself never takes a definite stand on those points, choosing to let the viewer decide, and in fact, given the intensely nuanced view the show provides of all its conflicts, that might be the ultimate point—that there is no right side or perfect solution, just the least destructive of a bunch of bad options.
Which is an unexpected and refreshingly mature theme for a show inspired by a bunch of heroes fighting over a glowing magic rock.
That maturity is another of the things that makes Arcane so surprising. Most adult-oriented animation aims to be as crass and edgy as possible, even when it's smartly written, and while there is some definite adult content in the show (lots of blood and violence, barely censored nudity, and an artful but still conspicuous sex scene), Arcane's maturity is found in its intelligence and themes.
I don't think anyone—LoL fans included—went into Arcane expecting an emotionally exhausting exploration of the complex bonds of sisterhood, brotherhood, and the things that test them; the psychological effects of trauma; class struggle and the invisible things that contribute to it; the paradoxical decisions involved in being a parental figure; the socioeconomic implications of widespread drug use; and the challenges of mental illness and physical disability—but that's exactly what we got.
All that, and an uproariously fun action fantasy with FOUR of the most kickass soundtracks to ever enter my earholes.
Honestly, I am slightly terrified for Season 2 because making something even on par with Season 1 is going to be a monumental task. 😬
And I haven't even written about the art yet. Simply put, the show is gorgeous, and so immaculately detailed that, even months after its release, sharp-eyed fans are still finding subtle bits of foreshadowing, hidden character details, and potential hints of plot points to come. There's not a single frame of this show that does not stand on its own as a legitimate piece of thoughtfully-composed art. The character designs are entrancing in their detail and distinction, and the depth to which both go. (If you look closely, you will see that the artists went as far as to give each character unique teeth. 😮)
Though to a lesser extent, this is true of even minor, background characters, and this is one of the things that makes the world itself feel dynamic and lived-in. Though we're not privy to these minor characters' stories, the careful, selective detail put into every aspect of the series' design suggests that there are stories hidden, waiting to be found, and as a result, the world feels expansive even if we only see the overlapping stories that are relevant to the main characters.
Speaking of dynamic, complex worlds and populations, one of my absolute favorite things about Arcane is its diversity—not merely its presence, but how it presents it. Arcane's is a world populated by a wide and intermingling variety of races, cultures, sexualities, and characters with varying degrees of disability (both physical and mental)—and all of those things just exist in the world without special comment.
Though some of the characters are faced with challenges because of their traits, they're never wholly defined by them. Even the iconic Jinx—who by the end of the series struggles with what is probably some combination of schizophrenia and PTSD—is not presented as The Insane Archetype so much as an orphan struggling to find a family after she loses hers in the most traumatic of ways. She's a character before she's a theme (though, admittedly, her mental state does contribute hugely to her own challenges, and her volatility shapes much of the central plot). Likewise, hexcore inventor Viktor has a conspicuous crippled leg and a physical condition that deteriorates as the show progresses, but this is never shown as an impediment to his accomplishments. In fact, it doesn't even become a significant factor in his ambitions until a late-series reveal suddenly makes it very relevant to him—but even then he approaches it from the perspective of "How do I solve this problem so I can get on with the rest of my life?" Again, he's a living character with complex ambitions and motivations, not a simple archetype.
Honestly, I could go on for pages and pages about the subtle, complex brilliance of every character in this show—and I haven't even touched on their relationships—but I'm already getting into TL;DR territory. 😆 I did want to comment on one other character, though, as she's the embodiment of how unconventional, creative, and thoughtful the characterization decisions are in this series.
In most other series, Ambessa Medarda would have been some generic-but-imposing seasoned soldier dude, powerfully present but ultimately unmemorable because we've already seen so many characters of the type. She definitely has a powerful presence—beheading a conquered political foe in one's first scene will have that effect—but she's also old enough to have graying hair, built like a tank, sexually assertive enough that one of her first actions when she shows up is to hire a hot boy toy to attend her, and not only that, but secure enough in her own body that she wields nudity not as a tool of seduction, but a weapon to disarm others. Her character alone inverts so many viewer expectations that she's a marvel. (Seriously, how many female characters can you name in popular western media that get to be both old and badass? Or sexual for themselves rather than for a male protagonist's gratification, and beyond that, in a way that is well aware of how uncomfortable it makes people AND EXPLOITS IT FOR STRATEGIC GAIN?)
Y'all, in the course of writing this, I think I just realized I'm an Ambessa fangirl.
Which, in retrospect, is not all that surprising because Jacob's heard me fangirling over everyone else in the show since November. 🤣 But I digress.
I literally have one complaint about the entire show, and it is that Sky Young could have been put to better use. (To say more is to enter spoiler territory, but those who know, know. 😐)
Anyway, one final point:
My personal method of defining Truly Great Art is to consider not only how much I enjoyed experiencing it, but how much it makes me want to create. The best entertainment, in my opinion, inspires the people who encounter it to put their own creativity to productive use—and Arcane did that for me in quite an unexpected way.
I've always known that I wanted to be a writer, but early in my creative explorations, I was also heavily into art. In fact, my future career of choice in high school was in animation, to the point where I specifically took French as my foreign language with the intent of joining the French animation industry. (French animation tends to be more experimental and mature, and appealed to me more than American animation. Perhaps notably, the studio that produced Arcane—Fortiche—is French.)
Various things went awry in my first semester of college, though—the best of which was that I discovered the depth of my aptitude for writing, the worst of which was that my first art class made me hate drawing so much that I put away all my art supplies and never touched them again in any significant way.
Until I watched Arcane.
Something about the maturity of its story and the absolute gorgeousness of its art—not to mention that it was the kind of animation high school me wanted to produce—shot straight into my brain and rekindled a passion I thought I'd lost forever. I'm now drawing again for the first time in fifteen years, just for fun—and in the process I'm re-discovering how much drawing actually contributed to my early development as a writer. I notice details differently when I'm trying to render them in graphite, or ink, or digitally—and that in turn affects how I describe things on the page.
Naturally, one of the first pieces I produced was fanart of my favorite Arcane character, so enjoy some Viktor: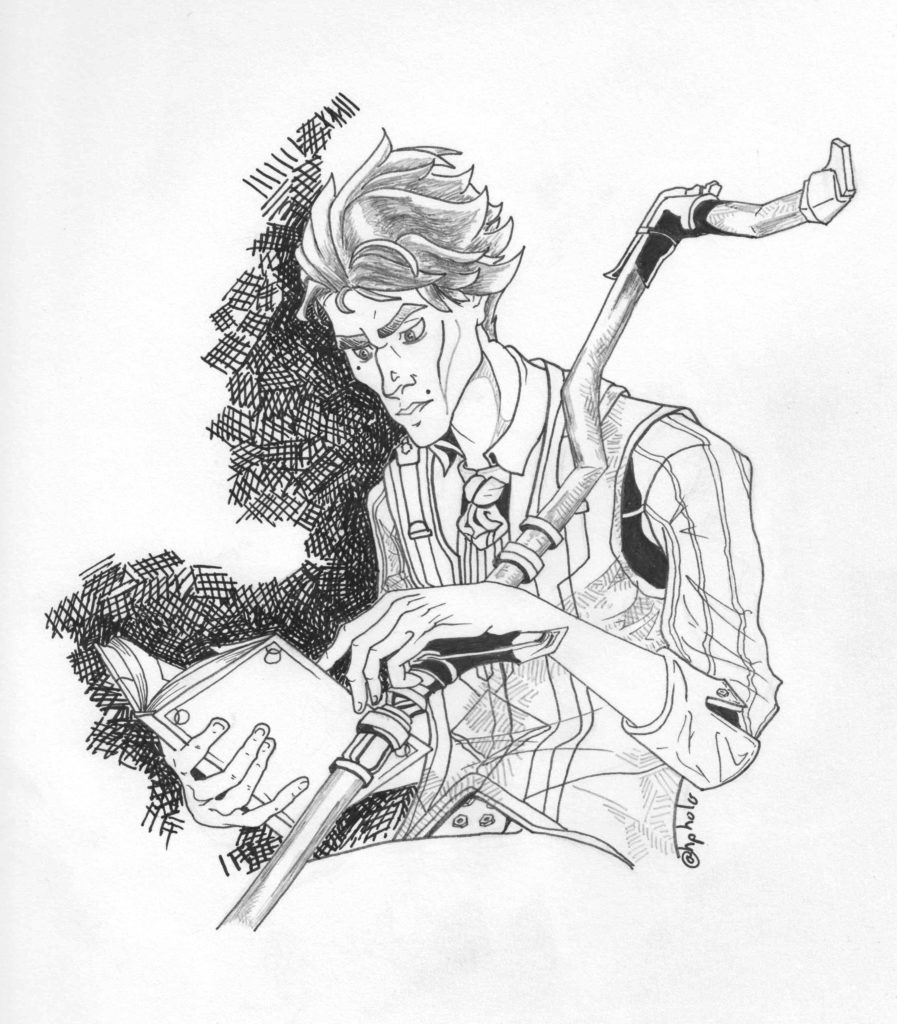 (By the way, if you want to see more of my art, I post it over on Deviant Art and Instagram.)
All this to say, Arcane is one of those shows that left an indelible impression on me. It is a masterpiece in every way, and an inspiration in just as many, and I am glad to live in the same era as it.