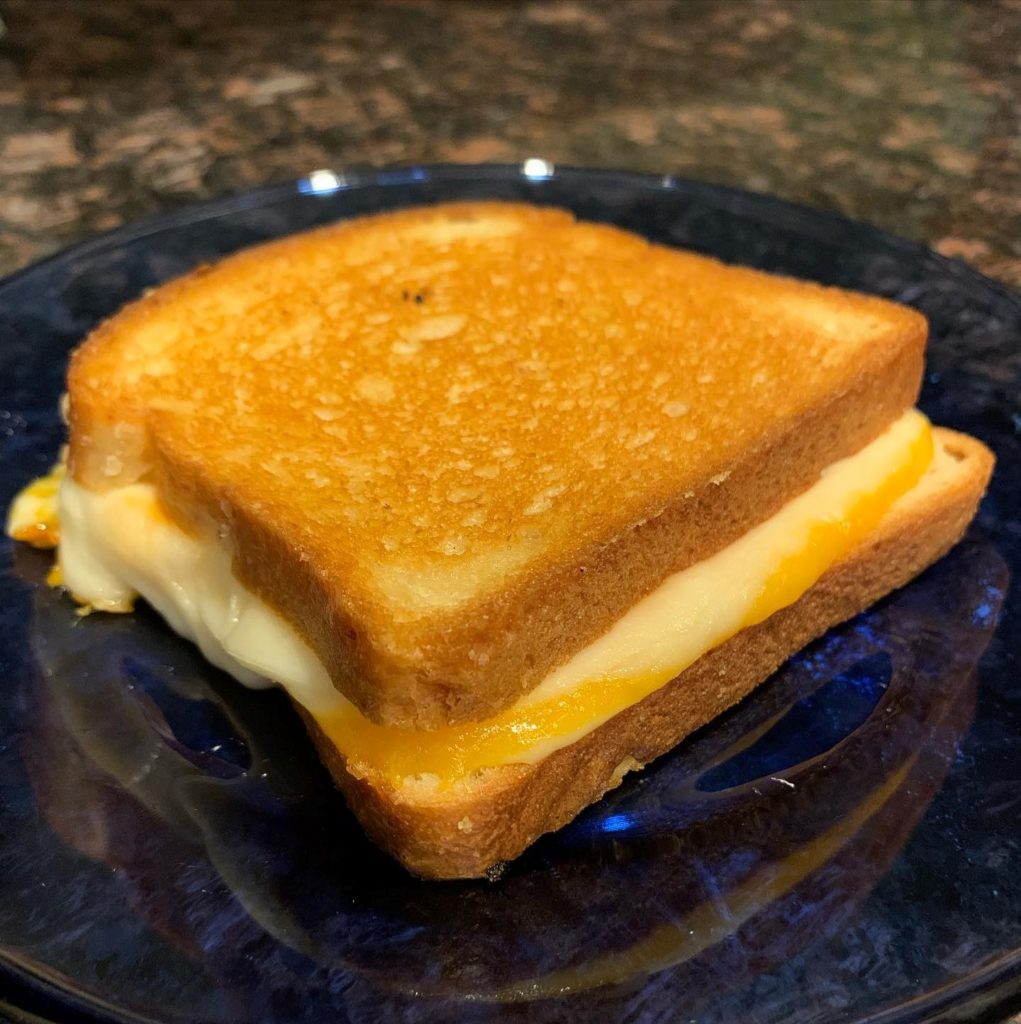 Ingredients:
Instructions:
Preheat a frying pan on medium-low heat. Plop 1/3 of the butter in to melt.
Use the remaining butter to butter both pieces of bread.
Plop one piece of bread in the pan butter-side-down, then sandwich the cheddar cheese between the mozzarella and put it on the bread to melt. Place the other piece of bread on top, butter-side-up.
Let sandwich cook slowly until it reaches desired toastiness and meltiness. (Don't cook it too fast/hot or the toastiness-to-meltiness ratio will be off.)
Babble:
Of all the random diets I've tried, Keto is my favorite because once my body adjusts to the kind of nutrients it's taking in, it feels healthier and more energetic than it does on any other diet. Plus, you can eat, like, a ton of cheese on it, and I was pretty much made of coffee and cheese even before I started Keto.😋
However, while the body may generally feel great, sometimes the soul just wants a grilled cheese. 🍞🧀
And frankly most Keto breads I've tried don't taste like bread so much as sadness and despair manifested in a tasteless, disturbingly-textured physical form. 🤢 I don't like to waste food, so I can generally power my way through most foods I'm indifferent to, but the vast majority of Keto breads that I've tried end up flung straight in the trash with the kind of force most people reserve for books with bad endings.
Which was why, when a fateful conversation at my local comic shop told me about Sola Bread – a Keto bread that tastes like actual bread – I leapt at the chance to try it.
And Y'ALL.
Y'ALLLLL.
It's amazing. It tastes more than edible. It really does taste like actual bread, and it has revolutionized my grilled cheese life. 😮 I eat one of these sandwiches every other day, which is a whole lot more grilled cheese than I expected to eat when I started Keto.
My favorite flavor of Sola Bread is Sweet and Buttery, but Sweet Oat is a close second, and there are a wide variety of others available on the brand's website. (I link to Amazon elsewhere because, TBH, I have affiliate links and get paid every time someone buys stuff through them, but I generally find this bread in the freezer section of my local Publix.)
Obviously, you can make whatever kind of grilled cheese you want on this stuff – all grilled cheeses are equal and blessed – but I prefer to use mozzarella cheese for maximum stretchiness and sharp cheddar for a little tang. I also prefer Kerrygold butter because I don't use that much butter in my day-to-day cooking, so when I do use it, I'm going to use The Good Stuff.