Hello, everyone! It's been two years since my last Gordian Division book with David Weber released, so I'm very excited to say that the Book 3, The Janus File, is here – and shows an entirely different part of the Gordian multiverse.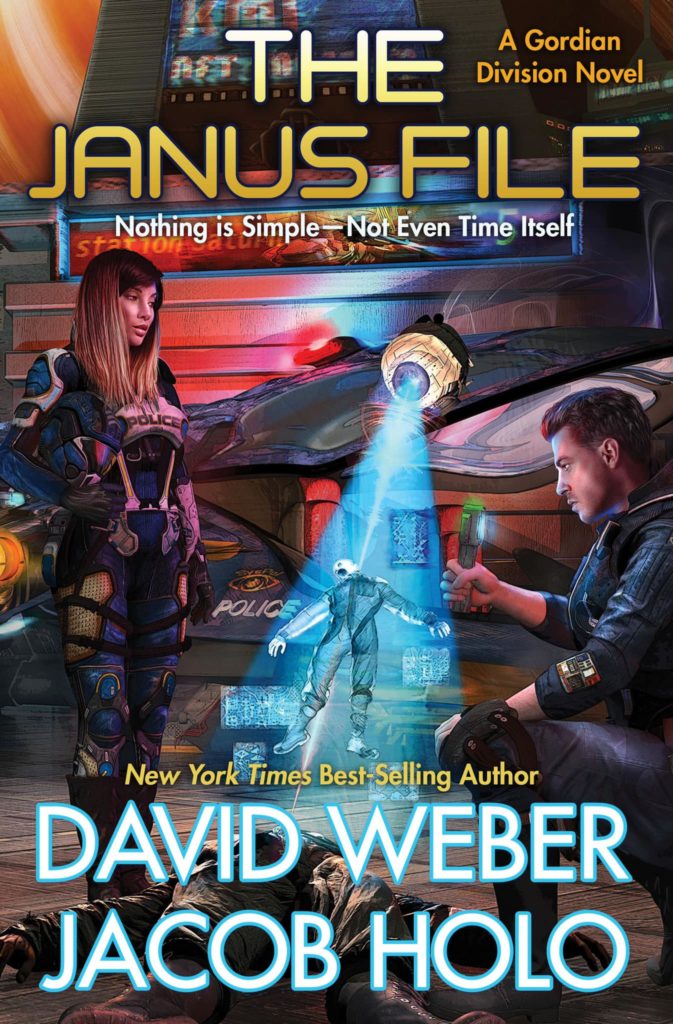 THE JANUS FILE
(Gordian Division #3)
by David Weber and Jacob Holo
• • •
NOTHING IS SIMPLE—NOT EVEN TIME ITSELF
The fates of universes aren't the only things time travel can impact. Sometimes the effect is a lot more mundane and closer to home. And when that happens, it's up to the cops of Themis Division to make time turn out right.

It was supposed to be a routine trip for the members of the Gordian Division, both human and AI: fly out to Saturn, inspect the construction of their latest time machines, then fly back.

But when the division's top scientist and chief engineer are killed in the same freak accident, suspicions of foul play run deep. Detective Isaac Cho is sent in to investigate, but he has more on his mind than just a new case. His superiors have saddled him with an exchange officer from the neighboring Admin—Special Agent Susan Cantrell—whose notion of proper "law enforcement" involves blowing up criminals first and skipping questions entirely.

Despite his objections, Cho is stuck with an untested partner on a case that increasingly reeks of murder and conspiracy. The unlikely pair must work together to unravel this mystery, and soon they discover their unique combination of skills might just provide the edge they need.

But nothing is ever simple where the Gordian Division is involved.

Not even time itself.
Why the jump from time travel alternate history to sci-fi police procedural?
Well, that's something David and I will be covering in more depth at The Janus File's Virtual Launch Party this Saturday @ 8pm EST! Join us on YouTube and Facebook to hear about what went into the writing of our newest book … and maybe win some signed copies of The Janus File along the way! 😄