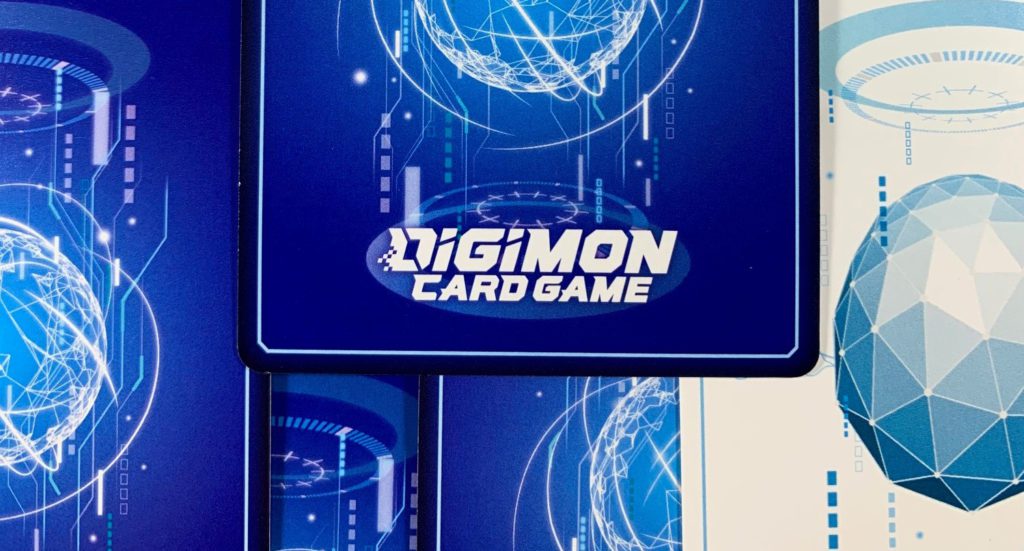 In the course of rediscovering Pokémon cards last month, I made one other fascinating discovery:
There's a new Digimon card game, which came stateside as recently as this January. 😮
Y'ALL.
Y'ALL.
Preteen me might have liked Pokémon, but when it came to Digimon, she was a straight-up obsessed nerd (like, even more so than usual). Pokémon was a fun show to watch, but Digimon had a darkness and complexity to it that Pokémon didn't (at least, for the age group it was aiming to entertain), and there was a certain weird edginess to the monster designs that made it capture my imagination in ways Pokémon didn't.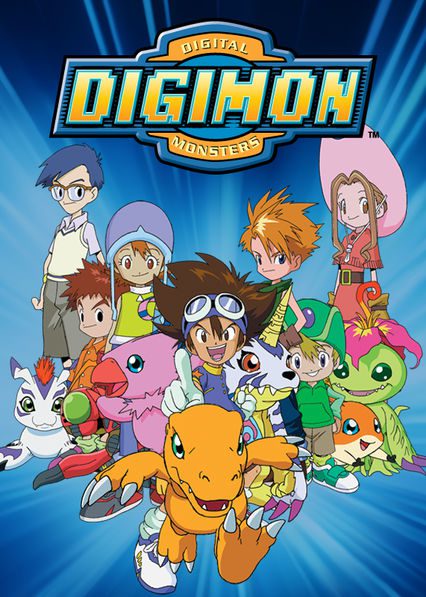 A lot of my writing from that period was obviously Digimon-inspired, as were the monsters I created for my own unique monster series, and Digimon stayed with me far longer than Pokémon did.
There was also a Digimon card game in those days – Digimon Digi-Battle – but it never took off like the Pokémon card game, and didn't last very long. I've always lamented that Digimon itself never reached the level of success Pokémon did – it's always been present, but never as popular – and thus I found the new card game a welcome and pleasant surprise.
So I resolved to collect it, too. Because 1) IT'S DIGIMON, and 2) the art on the cards is BADASS. While Pokémon continues to be made for kids, the art on the Digimon cards is clearly aimed at adults who loved the series as kids, with a respect for the target audience to match. I mean, look at the difference in the two generations of cards: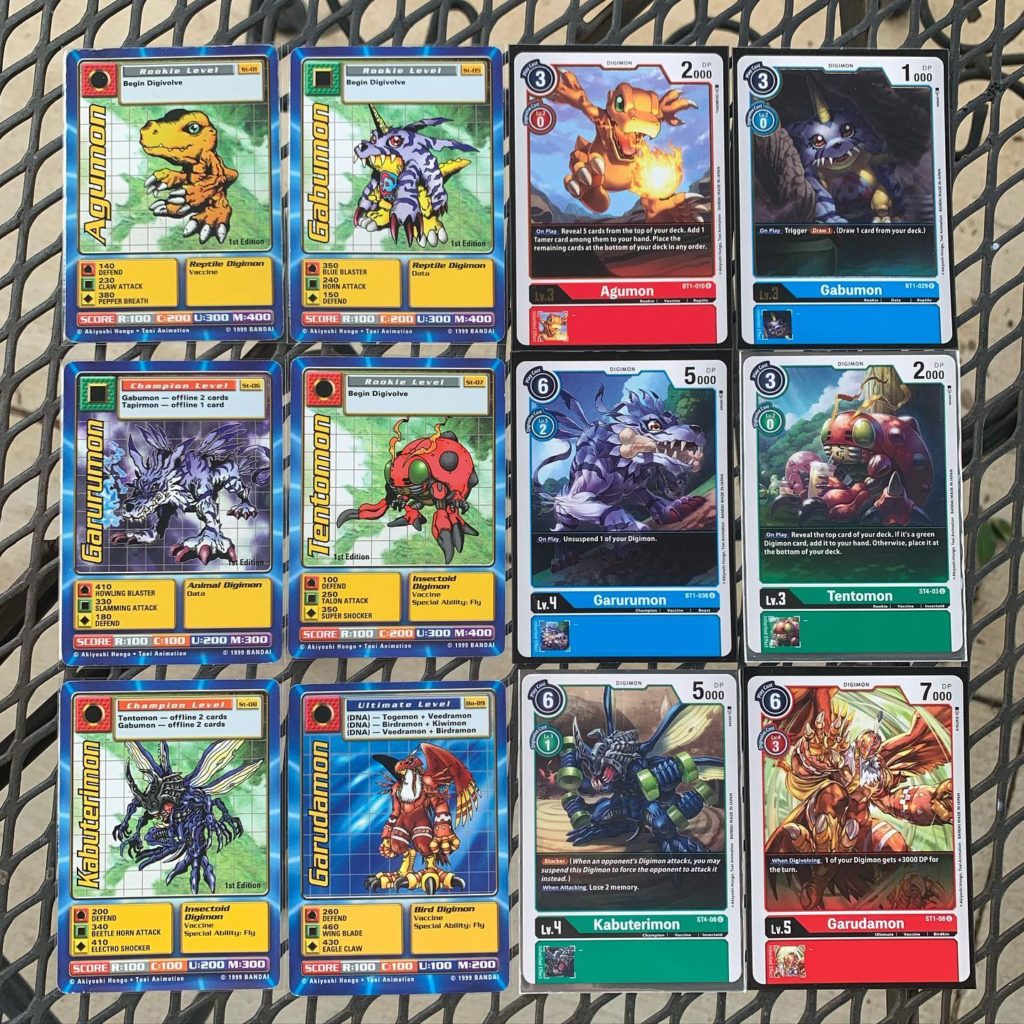 I didn't expect to actually play the game, just because my main gaming buddy is Jacob, and he'd been indifferent to the Digimon show when I tried to introduce him to it several years ago. (Admittedly, Digimon Adventure – the Americanized version, at least – does not watch well if you have no nostalgic attachment to it and are first experiencing it at 40. 🤣)
However, when I went to one of my local card shops to pick up some packs, the employees were chatting about how well-designed a game it was. Knowing that Jacob enjoys analyzing rule sets, I casually mentioned this to him and asked if he'd like to play.
My goal was really just to use gameplay and deckbuilding as justification to buy more booster packs for my collection. 😁
But then Jacob started looking at the rules and deck options. 😮 And talking about how each theme color plays differently. 😮😮 And asking about the lore of specific Digimon. 😮😮😮
And suddenly we own all the trial decks and Jacob's telling me to watch the mail for Digimon booster boxes.
I was already a card-collecting monster, but it looks like I inadvertently created a new one. 😆
The awesome thing about the whole discovery, though, is that the new Digimon Card Game really is a spectacularly-designed game.
Its basic rules make it easy to pick up and play; each color-grouping of cards lends itself to an interesting variety of play styles; and most of the individual cards are designed with such an interesting variety of functions that, easy as it is to pick up, it has the potential for a wide range of complexity.
That's also one of the things that makes opening booster packs so exciting; while I've of course pulled cards that don't mesh with my play style, it's rare that I find a card to which I'm indifferent, either because of what it can do inside the game or because of its art.
To some degree, I've liked literally every card that I've pulled.
There are more than a few cards where I've gone "Oh, I'm going to hate facing this card in the game … but that is also a really cool gameplay mechanic. 😀" And often a single intriguing card or combination of cards will lead me to building a whole deck inspired by them. 😮
It's been enormous fun to rediscover and re-engage with this part of my childhood in a way childhood me never did. Back then, I only collected cards and kept them in binders to admire; I never played with them, and actually getting into the gameplay side of things gives me a whole new appreciation for the hobby as a whole.
It also comes in an extraordinarily well-timed moment – when I'm about to release a brand new series that pays homage to Digimon, Pokémon, and all the other monster franchises I've loved since childhood.
But more on that in my next post. 😉