I've been looking forward to this book since the moment I heard it described as Pokemon Go meets Monster Hunter—and by the standards both properties inspire in my brain, it does not disappoint. 😄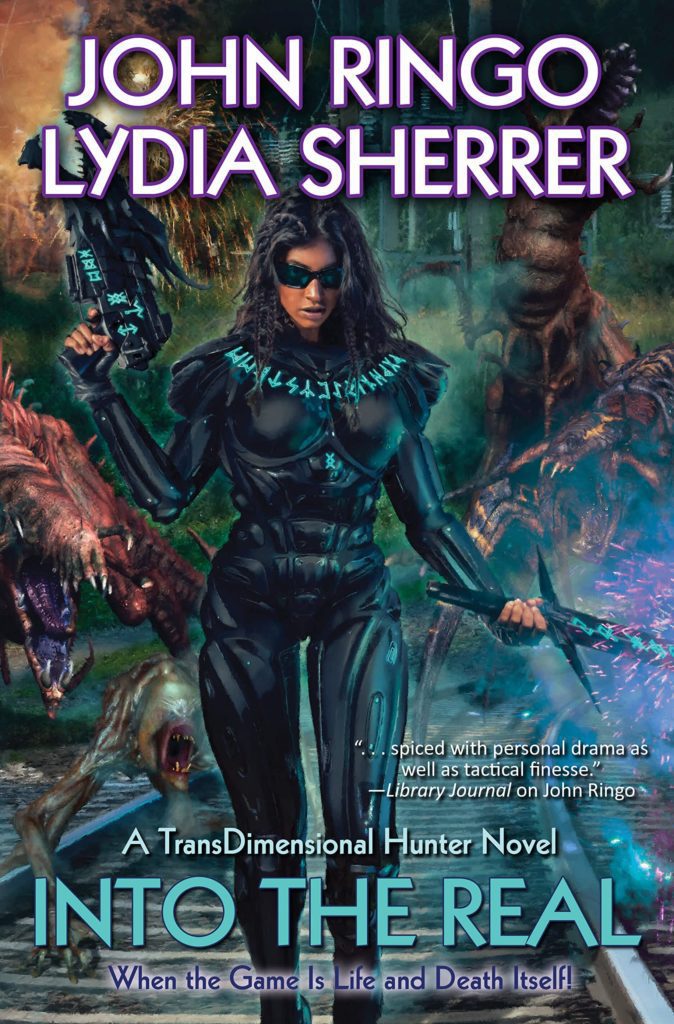 In John Ringo and Lydia Sherrer's Into the Real, Lynn Raven is a shy couch potato of a teen who would rather stay home and play WarMonger 2050 than go be around people. Even her narrow circle of IRL gaming friends—all guys—are generally unappealing, because the alpha nerd of the group is of the "girls can't play video games" variety and would become insufferable if he knew the truth of her gaming hobby. See, through the power of near-future voice modification technology, a lot of intense forum research, and a lot of practice, she moonlights as the grizzled military veteran Larry Coughlin, an absolute legend in WarMonger's multiplayer circles, a well-paid in-game mercenary-for-hire, and most importantly, routine kicker of Ronnie's in-game butt.
So legendary is she as Larry Coughlin that, when Tsunami Entertainment rolls out the invite-only beta for its upcoming augmented reality game, TransDimensional Hunter, she's invited by the head of the company himself to test this new game. It's a tremendous honor and testament to her skill … but stepping outside her home, into the real, to conspicuously play this highly-anticipated game means she risks revealing her online identity. It also means she'll have to deal with, eew, people.
But it also presents an avenue for her to earn more real-world money through gaming, and things haven't been easy for her and her mother since the death of her police officer father. So Lynn takes on the opportunity—and with it, the challenges of navigating adolescence, competitive gamer boys, savage popular girls … and maybe something even bigger than that.

In recent years, I've become a huge fan of the LitRPG/GameLit genre (obviously, since I now write in it), and while Into the Real lacks some of the more iconic qualities associated with indie LitRPG (detailed stat blocks, for example), it's entirely worth a read for LitRPG fans, especially those looking for something a little more complex than the usual power-fantasy adventure that dominates the genre.

Into the Real stands out for many reasons. The most conspicuous one for me was that it not only follows a female main character—uncommon in LitRPG—but that it depicts the specific experience of being a female gamer in a male-dominated competitive hobby, while also exploring the challenges inherent in simply being a teenager.

There is a definite power fantasy element—Lynn's masquerading as Larry Coughlin can't be anything but—but in a clever subversion of the trope, it's also presented as the mask she wears to cope with her very teenage insecurities. She's self-conscious about her body and about being a girl gamer amidst a bunch of immature boys, while potentially having a crush on one of those boys. She also has to deal with socially vicious popular girls, even on the gaming front, when the local rich queen bee (and popular streamer) has her father pull some strings to get her into the closed beta-test for TD Hunter … and proceeds to harass Lynn in the process (sometimes violently). Larry Coughlin and WarMonger 2050 are the shields she hides behind when being Lynn Raven becomes too unpleasant—but in playing TD Hunter, she can only be Lynn Raven, and participation in the game itself forces her to face those hurdles and thus grow as a person.

All this to say, while I don't think it was necessarily written for a YA audience, this is definitely a novel that teen gamer girls in particular can relate to.

And the experience of being a gamer girl is intrinsic to the story. One of Lynn's greatest social challenges is Ronnie, alpha nerd of her friend group and firm believer that "girls got no game." When a high-stakes TD Hunter competition is announced—requiring four-player teams—Ronnie begrudgingly lets her fill the fourth spot on the group's team and then, despite insisting upon being the leader, fails to give her serious consideration when forming the team's strategies (i.e. completely fails to act like a leader). A non-gamer might look at his character and view him as a stereotype … but anyone who has ever spent time on a gamer girl forum will recognize him instantly. Discussions on these forums are overwhelmingly dominated by girls trying to find other girls to game with, and it's largely because of the disrespect and sexist harassment they receive in chat from players like Ronnie. It's a genuine problem in gaming culture at large and Into the Real completely nails it with this storyline. Lynn has to overcome her difficulties with Ronnie if she—and her team—are to succeed in competition, and the way the story handles it is both realistic and wholly appropriate to its coming-of-age theme.

What makes this book succeed, though, is that alongside the strong realization of its themes, it's a whole lot of fun, and it particularly nails the unique fun of gaming culture, while also presenting a genuinely cool view of what gaming could look like in the near future.

Lynn's is a future where augmented reality glasses are common and used in daily life even outside gaming contexts, where smart fabrics can mold to fit individual body shapes, and where games as complex as TD Hunter not only have special shape-changing peripheral controllers, but virtual AI assistants to help manage in-game data. TD Hunter itself is a game that I found myself wanting to play as I read, largely because it reminded me so strongly of some of my own favorite games. The AR component of Pokemon Go makes it an obvious comparison, and given the game's goal, Monster Hunter feels like an obvious comparison, too … but (speaking as someone who takes days off work to play new Monster Hunter games), it's also wholly appropriate. TD Hunter is a game that understands the pleasure of tracking and discovering new monsters, gathering new data on them with each encounter, and heck, gathering loot in general. For that matter, it's also not inaccurate to compare it to Larry Correia's Monster Hunter International series, given that modern-style weaponry is used in the game (and that there's at least one MHI easter egg for sharp-eyed readers).

Also notable is how seriously the novel takes the physical aspect of the game. Lynn's mom is a medical professional, and there are moments where she delivers advice that made me go, "Oh, one of those authors definitely played ridiculous amounts of Pokemon Go" (I say as I look at my own dedicated gaming bag of sunscreen, bottled waters, emergency protein snacks, and UV-blocking clothes). TD Hunter, of course, is on a whole other physical level, requiring players to jump around and physically exert themselves as if fighting real monsters, and while Lynn's mom is cautious about the general safety of Lynn's endeavor, she's also refreshingly supportive and offers detailed dietary and general health information to enable her daughter to succeed without overwhelming her body. It's a nice realistic detail in a genre that usually doesn't pay attention to such mundane details. (Plus, it's also great to see a parent in a teen-led story who isn't an absolute idiot.)

The only place where Into the Real slips for me is the literal last set of paragraphs. These include a twist that sharp-eyed readers will see coming, and serve more to set up the next book in the series, rather than contributing anything significant to this one—but then, ultimately this first novel is about Lynn's personal struggle, more so than the coming wider struggle that's implied in the twist. Taking that into account, the book becomes a strong setup for what is sure to be a unique, fun series.

Ultimately, the thing that stands out most about Into the Real?

Many books about gaming get me so pumped to game that I stop mid-read to do just that—but Into the Real was so hypnotic I couldn't bring myself to put it down, despite wanting to boot up my console for some Monster Hunter every other page. (And y'all know how I feel about Monster Hunter.) That said, it's a must-read for gamers, but also for anyone who wants a fun, smart story about a shy teen finding her way through an exciting technological future.