Hey, Holo fans! 😀 You've been waiting patiently, and now we're pleased to announce that the Monster Punk Horizon audiobook is now live and loose in the wild! 😄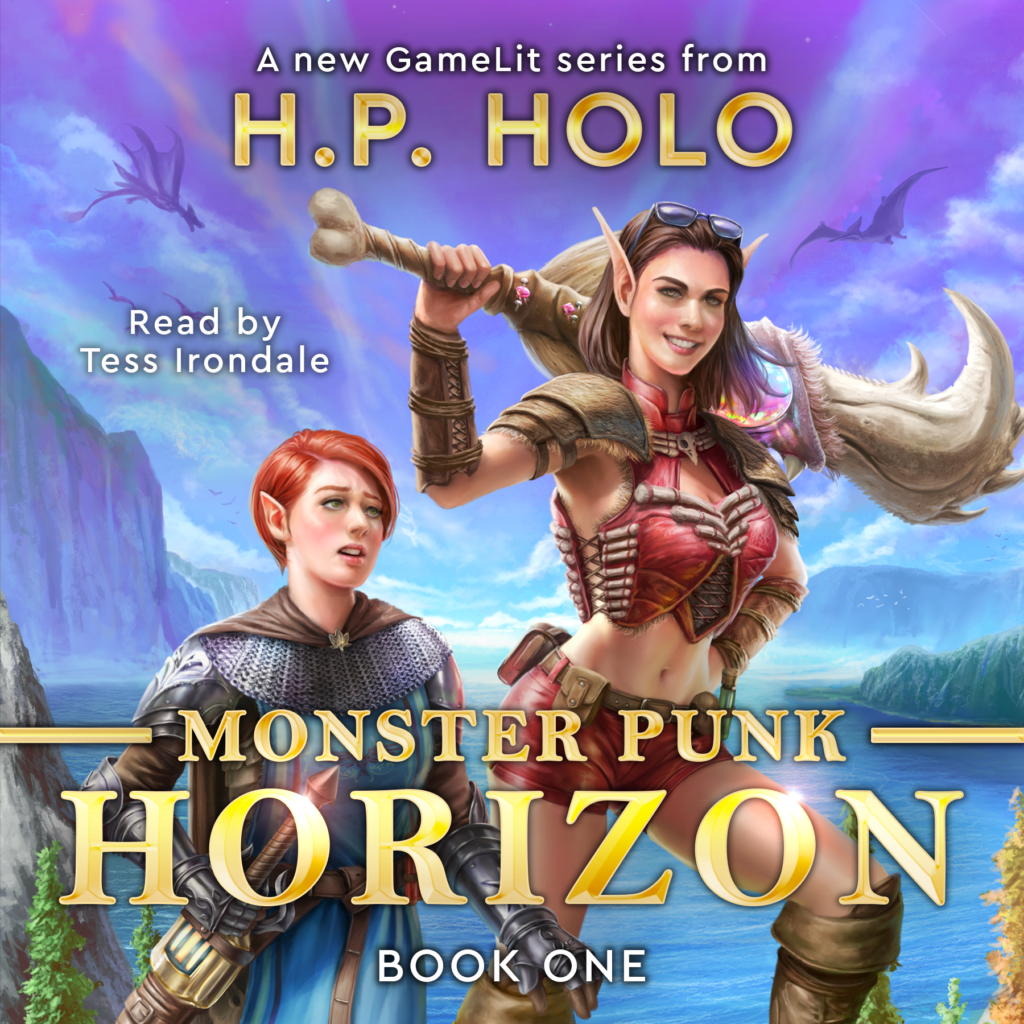 I had such a blast working with Tess Irondale on the Time Reavers audiobook several years ago that there was no question of who I wanted to voice the Monster Punk Horizon series. She's brought the antics of Pix, Jaz, and company alive with aplomb, and I've been eager to share it with you since the moment I heard the very first samples.
Speaking of which, here's a glimpse:
I'm equally eager to hear what you all think of it! 😄 Reader reactions to the book thus far have been wonderful and wildly beyond what I expected, and it's been a real delight to meet these new readers, whether through their reviews or on our Facebook Page. Here are some of my favorite responses:
⭐️⭐️⭐️⭐️⭐️ So imagine your gaming console, anime collection, and your box of Steve Jackson's Munchkin got together for a wild night after you went to bed, and months later gave birth to a book. That book would be called Monster Punk Horizon.
The first few chapters left my ADD-riddled brain scrambling, trying to come to grips with the world I was being presented, and the uber-threat that soon stomps into their world, but as I became comfortable with the knowledge I'd signed on for a wild ride, I just buckled in and got my popcorn ready. MPH is an irreverent good time, loaded with wild, funny and colorful characters.
If you are at all a fan of isekai anime, or Monster Hunter or just a redonkulous good time, pick up Monster Punk Horizon.
Philip K. Booker
Amazon Reviewer
⭐️⭐️⭐️⭐️⭐️ HILARIOUS FUN!!! … I haven't read many books that make me audibly laugh out loud, so I'm very glad I gave this book a chance, because now I can add it to that list! SO. MANY. FUNNY. MOMENTS. As someone who enjoys nerdy, Dungeons-and-Dragons-inspired adventures, this was an absolute thrill to read. The content was very geared for nerdy fans, but the humor and relatable characters made it easy for any reader to understand and have a good time reading!
Melisa
Goodreads Reviewer
⭐️⭐️⭐️⭐️⭐️ I had to look twice when I spotted this book. I am a huge Monster Hunter fan. I've played for thousands of hours for well over a decade and a half. So to say I was excited to find a book about living that kind of life was an understatement!
This book was an adventure. It was exciting, suspenseful, and I loved the characters. The action kept me flipping those pages as fast as I could … This book brought so much nostalgia and I couldn't wipe the smile off my face. 
Nina Diab
Amazon Reviewer
⭐️⭐️⭐️⭐️⭐️ Monster Punk Horizon by H.P. Holo is by far the best book I've read all year. The writing is top notch with all the witty dialogue and narration. The whole setting is absolutely insane in the best of ways. All the characters are great as well as distinct. … I will definitely reread it again, I just freaking love it!
Read this book, you won't regret it.
BookDragon
Goodreads Reviewer
⭐️⭐️⭐️⭐️⭐️ This was a good story, silly in all the right places, and not shying away from the ridiculousness built into the worldbuilding of many games … Well done!
Sarah
Amazon Reviewer
⭐️⭐️⭐️⭐️⭐️ I really enjoyed this book. The interactions with the main characters, Jaz and Pix, were highly entertaining. Though this book has some flaws, it's exactly what I wanted it to be. It's a fun and fast paced read with a memorable cast and great world building. I recommend this to anyone looking for a book that doesn't take itself too seriously and wants a few laughs out of their books.
David Sherrer
Goodreads Reviewer
I'm delighted that so many have already enjoyed it so much, and look forward to sharing much, much more of the Monster Punk Horizon universe with all of you. 😊