There's a meme that occasionally graces my social media feeds, lamenting that so many fictional heroes are unqualified teenagers, wishing for a story that follows an old grandma with the benefit of experience on her side.
Jane Lindskold's Library of the Sapphire Wind has become the book I recommend whenever I see this meme.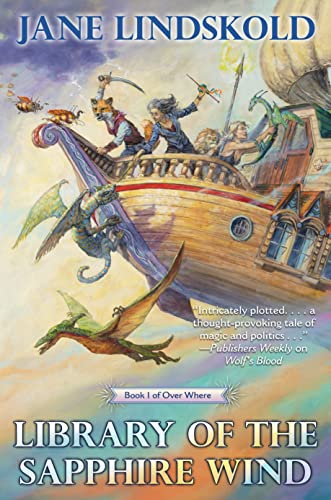 In Library of the Sapphire Wind, Meg, Peg, and Teg are three ladies of retirement age and the only people in attendance at a book club when, suddenly, they find themselves transported to another world—summoned by three precocious youths who were hoping for mentors from their own world to help with various weighty problems. The three book clubbers, however, are the first humans this animal-headed trio has ever seen, and they're not sure what to make of them.
However, Meg, Peg, and Teg are also three ladies with useful experience of their own, and they reason that, since they've been summoned to an alternate magical world to help solve a problem, they might as well see what they can do.
After all, it's more exciting than regular retirement could ever be.
And as a former librarian, a semi-retired archaeologist, and a dedicated parent and grandparent to generations of children, they might be more qualified than even they realize, especially when the magic of the summons points them toward the isolated, destroyed ruin of the titular Library of the Sapphire Wind—along with the young summoners they have to manage on the way.
I can't gush enough about this book, y'all.
I knew I was going to like it from page one because, let's face it, librarians, archaeologists, and cool grandmas make for great characters in any type of story—but then the mini talking carrier pterodactyl showed up, and then a discussion of the magical translation linguistics of the world of "Over Where" (as the main characters dub it), and I'm a sucker for linguistics and pterodactyls, too.
My personal reading preferences aside, though, this is a more complex book than I expected it to be.
The animal-head motif that defines the residents of Over Where makes the book seem like it's going to be a fun storybook adventure—and it definitely is a fun adventure—but fox-headed Vereez, stag-headed Grunwold, and lion-headed Xerak all have reasons for summoning aid that are darker and more complicated than the book's colorful cover would suggest.
And while this tale told from the viewpoint of these three would likely present them as the heroes of their own stories, the tale as told by Meg, Peg, and Teg is one of how these characters need to mature, and how the three help them do so along the way. Which isn't to say that Vereez, Grunwold, and Xerak are children in the conventional sense—Over Where has a different understanding of such rites of passage, where adulthood is not reached at a specific age but by the acquisition of a mature state of mind. Thematically, this raises the question of what it even means to be an adult, with each maturing character yielding a different answer, and often expressing maturity that is surprising for their relative ages. (When one young character speaks of a complicated romantic association, it's to say, "There's good in him. I'm just not sure it's good for me.")
It's as much a tale of adventure as it is a tale of three mentors helping three adolescents grow up, and taking their jobs very seriously. There's also a not-so-subtle jab at famous fantasy mentors like Dumbledore who send young protagonists off to do dangerous world-saving things without giving them useful guidance, such that I wonder if the book wasn't entirely written as a reaction to such mentors.
That doesn't mean it's a book one reads for its Important Themes, though. Library of the Sapphire Wind is ultimately a book of complex, thoughtful points wrapped up in an adventure that is just plain fun. There are plenty of exotic locations for the main characters to explore; the Library itself is as cool as one would expect a magical library to be (complete with its own sentient, incorporeal guardian, from which it draws its name); and the variety of monsters the characters face as they travel to and excavate the library are as enthralling as any that ever captured young imaginations in children's stories (Mine, at least; I'm a sucker for monsters, too).
The depth to which the worldbuilding goes is hypnotic, as well. Much is made of the summoning spell's translation magic and how the characters must adapt—and thus learn more about each other's worlds—when the magic doesn't know how to translate specific words or concepts. There are also plenty of wonderful background details that don't necessarily contribute anything to the story (yet—there's a sequel, Aurora Borealis Bridge) but still serve to flesh out the world of Over Where as a living, breathing character of its own. One of my favorite such details was the setting's concept of reincarnation: Over Where is a world where reincarnation is such an accepted (and proven) occurrence that it exists casually in the background, and though there are different subdivisions of the related belief system that disagree over some specifics, the concept in this setting is also wholly separate from theology. ("What do gods have to do with it? Gods are for crops, moral guidance, explaining how things got started, stuff like that," as one character says.) It doesn't affect the story at all that much except to explain why one character lives in a necropolis community (which exists because of those subdivisions trying to influence reincarnation through the treatment of interred bodies), but it's still a really cool look into the spiritual and physical logic of the world.
Though, perhaps, given the age of the main characters, reflections on mortality are not wholly out of place—especially when one considers other inevitable effects of age, and in turn how those affect the storytelling.
Though Library of the Sapphire Wind is ultimately an interesting fantasy adventure, it's not a rollicking quest to beat a conspicuous bad guy in a Hollywood-style castle-crashing battle (though the characters do see their fair share of dangerous encounters and action scenes). Meg, Peg, and Teg are not reckless, daring heroes who barge into danger without thinking. Age and experience has made them careful and sensible (if sometimes to the chagrin of their young companions), and the novel flows at a calm, fluid pace that reflects that sense of care. And yet it's never boring, but rather appreciative, introspective, and always enjoying the ride—and encouraging its readers to do so as well.
Library of the Sapphire Wind is easily one of my new favorite books. It expertly balances the thoughtful maturity of its older protagonists with the eager energies of its young ones. Combine that with its infectious sense of wonder, and it becomes something the fantasy world needs more of.