I just finished listening to Matt Dinniman's Dungeon Crawler Carl, and Y'ALL. If you have not experienced the audio version of this book specifically, you're missing out on a treat.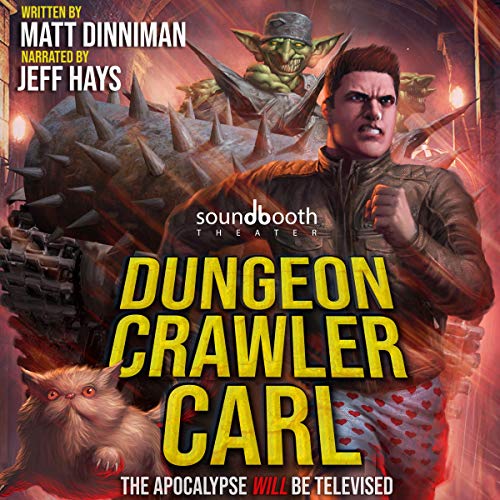 Dungeon Crawler Carl is a LitRPG series-starter in which, in the blink of an eye, most of Earth's population is obliterated and the planet is converted into a massive dungeon. Why? So the aliens about to claim its resources can watch, reality show style, as the last humans scramble for survival.
While it's primarily an action-adventure novel, there's a healthy dose of absurd comedy in it, too, and that balance of serious struggle and wacky humor is what makes it soar.
I knew this book was going to be a new favorite the moment I learned that Carl has a cat companion named Princess Donut. Who has better stats than him. And talks. With the accent of a pampered 19th Century British aristocrat. For that matter, the voice that narrator Matt Hays assigns to Carl's inner monologue reminds me vaguely of Patrick Warburton – best known to me as Kronk from The Emperor's New Groove – and that alone was reason enough for me to start the book. 
What kept me listening, though, was how unexpectedly complex this book became. Sure, there's plenty of crazy dungeon-crawling antics. But there's also a fair amount of moral complexity to it, and an underlying question of how many terrible deeds a person can commit before they cease to be human (even if those deeds are necessary for survival).
And as the story goes on, you realize that there's far more to the novel's world than it first seems. Not all of the aliens helping to run the dungeon are there because they want to be. And Carl learns that his some of his actions in this dungeon might be influencing intergalactic politics whether he wants them to or not.
In every single one of my LitRPG Facebook groups, this book dominates recommendation discussions, and now that I've experienced it, I can say it deserves every single one of those recommendations. If you like LitRPG, or just a hilarious adventure with a surprising bit of depth, you should absolutely read Dungeon Crawler Carl.