Welp, it's been a bit since Nova's initial cancer diagnosis. That and her initial surgery fell in the midst of the Monster Punk Horizon series' launch, so there wasn't too much time for blogging. 😮‍💨
But now that there is, I'm delighted to let you know that Nova's surgery went well! 😄 Her vet reports that the cancer didn't spread beyond her ear, and Nova's so chill about it all that, frankly, I don't even think she realizes she's missing an ear. 🤣
At the very least, when I brought her home the day of surgery, she was interested in only one thing and that thing was food:
If you missed the news back in November, you can read the original post here, but the short version is that we found a weird "scab" that ended up being squamous cell carcinoma, and when that shows up on a cat's ear, the treatment is a pinnectomy – that is, to remove the external part of the ear entirely.
It sounds dramatic, but according to our vet, it doesn't affect the cat's quality of life, and the only real downside is that the cat looks a little more … characterful. (As if Nova needs any more character. 🤣)
The surgery itself was back in early December and went as smoothly as it possibly could. (The whole vet's office loves Nova, and she loves them. Sometimes she comes home with cute little neck-scarves from the vet, just because. 🥰)
The only real challenge thereafter came from the Cone of Shame that Nova had to wear for 10 days – though, given the designs printed on it, it's probably more accurate to call it a Cone of Encouragement. 😊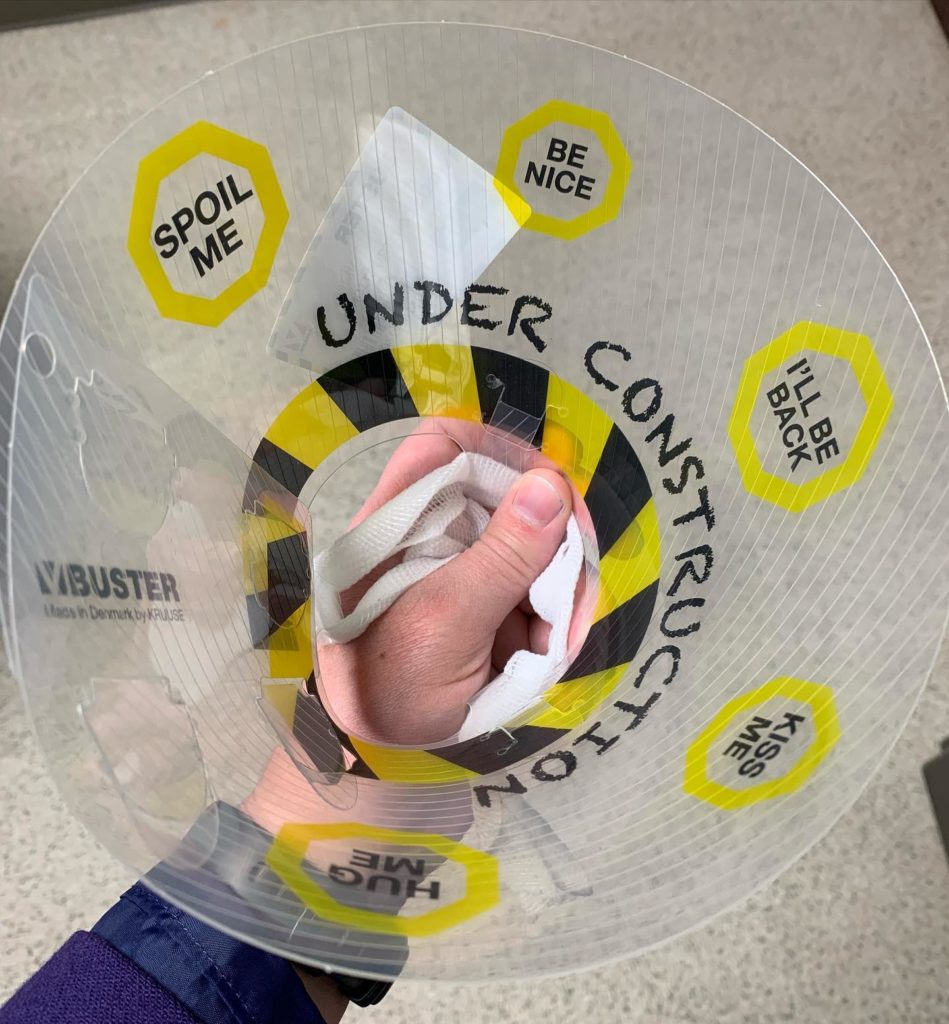 Her first night home was amusing, partly because painkiller-high Nova is always amusing. She loses her depth perception, tries to jump on Jacob's lap … and frequently misses the couch entirely. 🤣
Jacob and I were also serenaded to sleep that night by the relaxing sounds of Nova bumping into literally every single surface inside our house. 😐 Which was hilarious, but also ensured that none of us got to sleep at a reasonable hour.
The cone was primarily there to keep Nova from scratching her ear and thus tearing the stitches.
We thought she'd get frustrated by it fast – but we also neglected to remember just how endearingly manipulative this little cat can be. 😂
Within twelve hours of coming home, she figured out that if she dipped her head a certain way in Jacob's presence and made a pitiful "prrt" noise, Jacob would scratch inside her cone in the places she couldn't reach. Which meant that, for the next 9.5 days, she had personal scratchers-of-itches, which she exploited to great effect.
Of course, doting cat parents that we are, we didn't mind being exploited – Jacob in particular. He pampered the heck out of this cat.
When the cone made it difficult for her to eat from her regular bowl, he just filled up a whole huge bowl with kibble and let her eat whenever she wanted. (We normally only feed her a small amount once a day because her appetite is as limitless as her charm, and in normal circumstances, she will eat 'til she barfs, then eat the barf. 😐)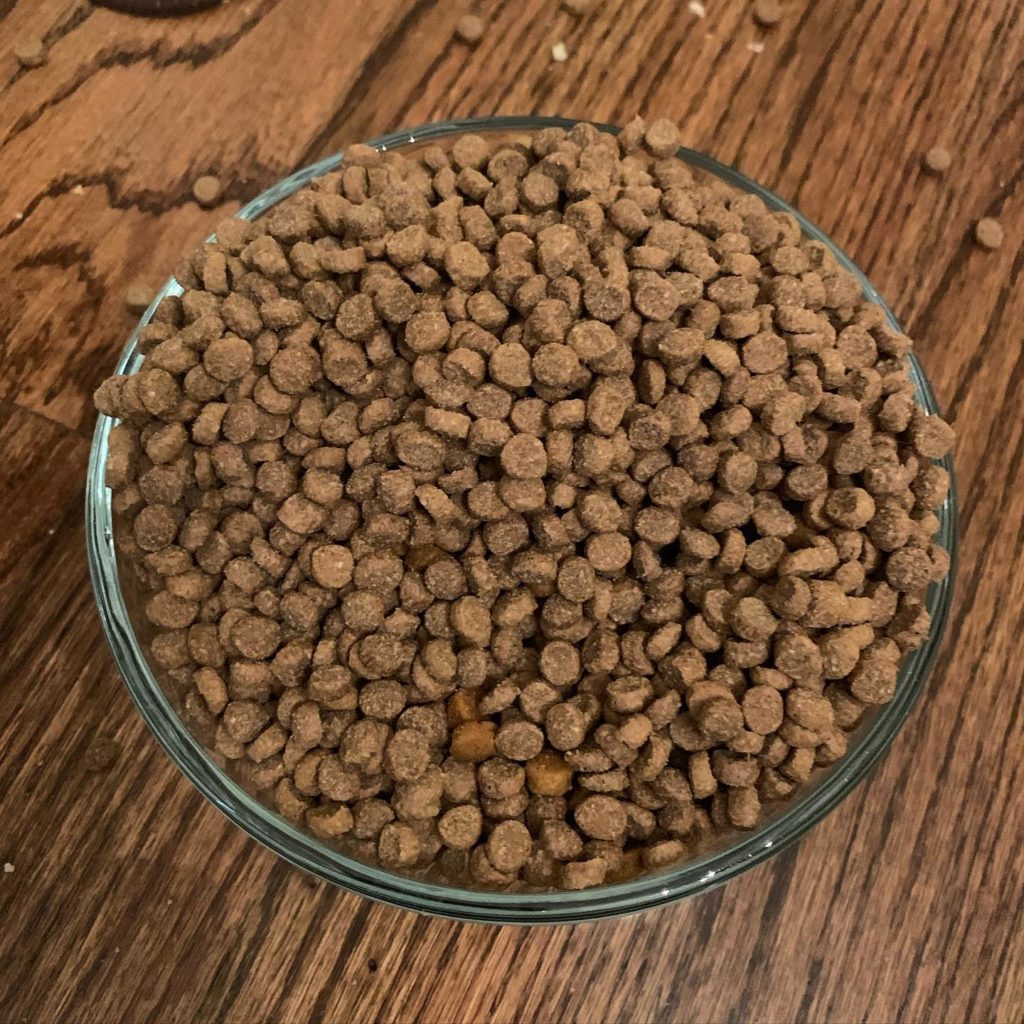 Normally Jacob also brings out a special bed for Nova when we play Digimon (so she won't lay on our card gaming mats) but she got to lay on the Digimon table that week, too.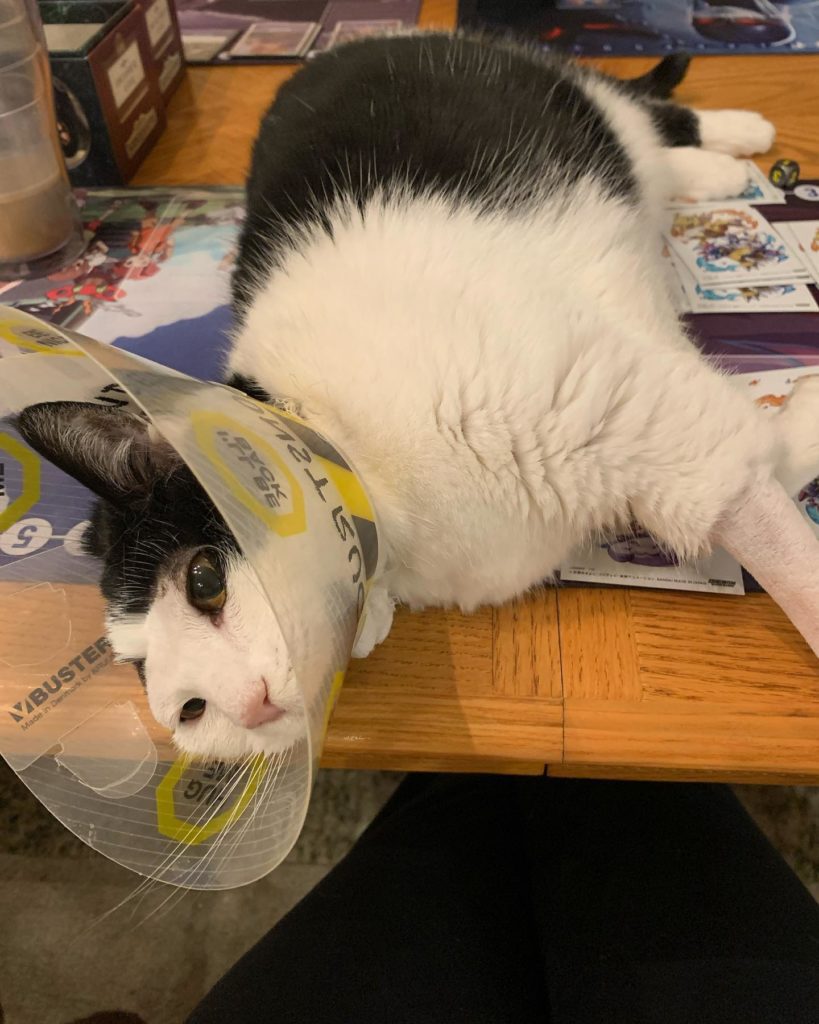 She spent much of the week in general lurking under our bed, which is where she goes when she's not feeling so well. (Luckily the cone could fit under there with no trouble.)
Eventually, though, she started chilling out in my paper trash again, which is her usual hangout.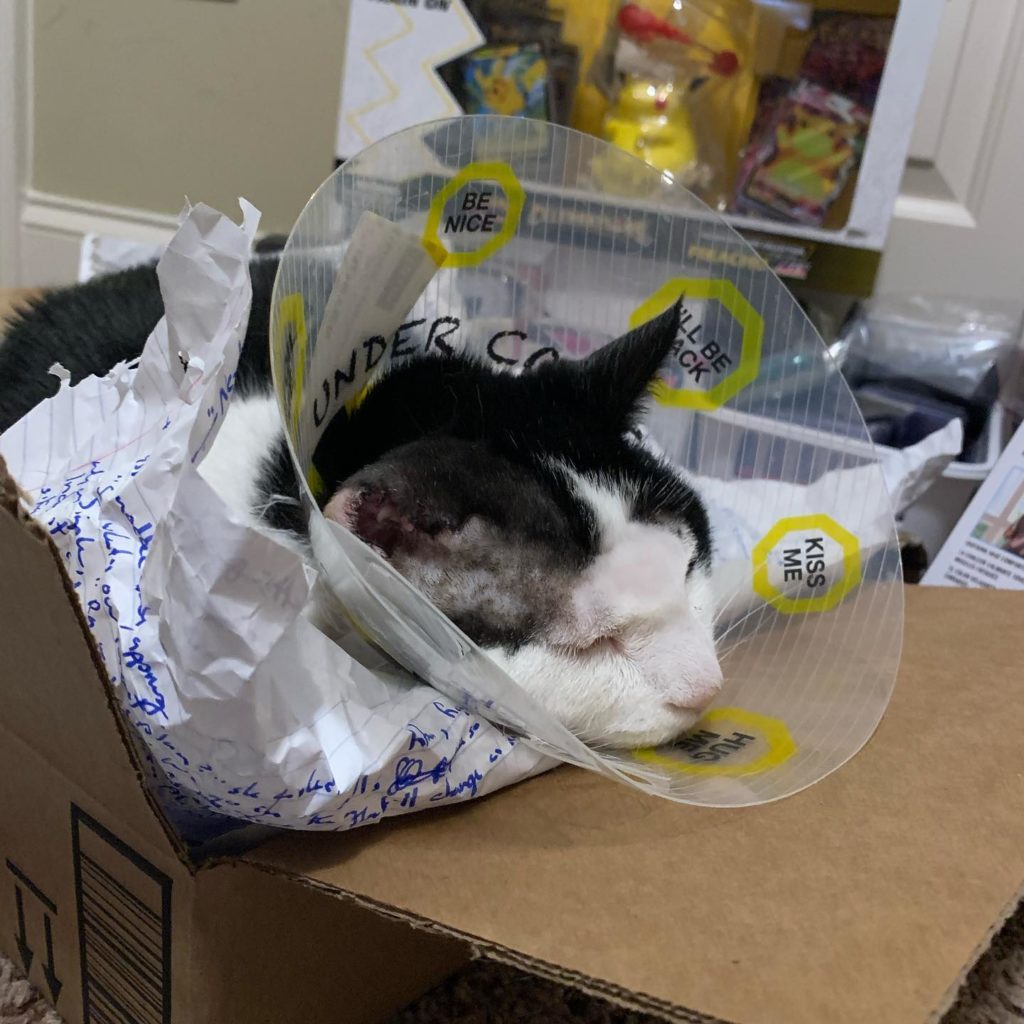 And she was back to lurking beside me on her designated #bosscat pillow in no time.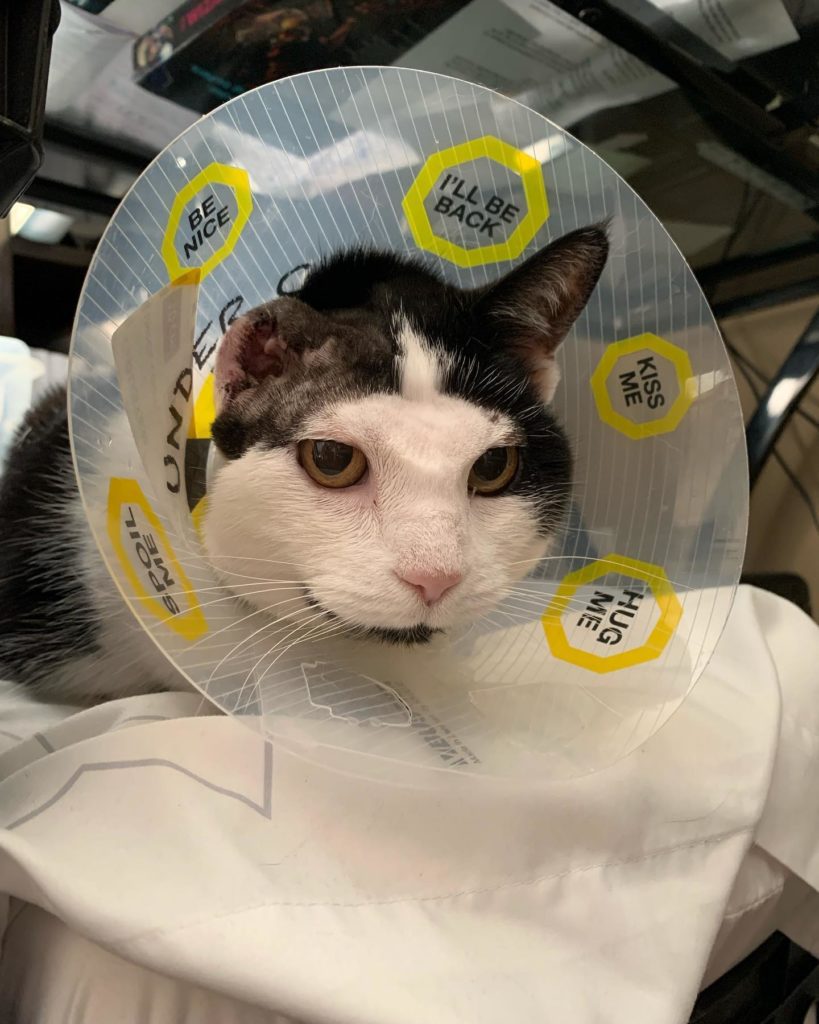 Now that the surgery adventure's over, all we have to do is be vigilant about protecting her thin-furred parts from sun exposure whenever she follows me outside on writing days – but fortunately, that's easy to do with a bit of cat-friendly baby sunscreen. 😊
So closes another adventure in the nine lives of Nova!