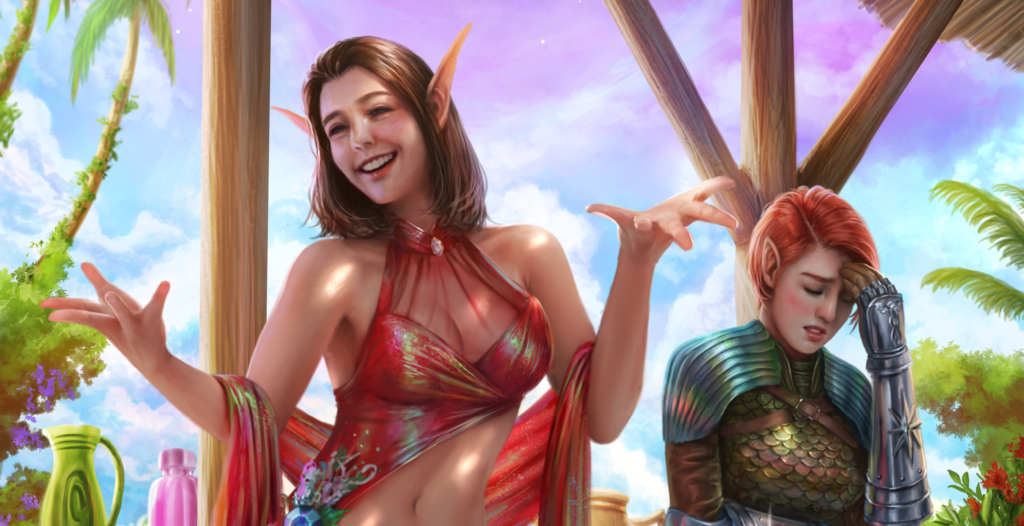 Last week, you saw a peek at Book 1 in my new GameLit adventure comedy series, Monster Punk Horizon. 😀
Now, since the second is going to crash-land soon after its release – a month, to be exact – here's the cover reveal for Book 2! 😮
Isekai Skies (Monster Punk Horizon #2)

🌟 GameLit 🌟 Portal Fantasy 🌟 Adventure 🌟 Comedy 🌟

✨ Coming November 18th, 2021 ✨
Audio Release Date TBA

🐉🐉🐉
I Got Engaged and Ended Up in Another World!
An epic convention. An epic cosplay. An epic engagement. It was the best night of Kaito's life—until the ground opened up beneath him.
Well, technically, a portal did. Either way, it sucked.
Now, trapped in another world with rampaging monsters, he'll have to learn to survive. Fortunately, this world is conveniently similar to his favorite video game. And he's got monster hunting experts (?) Pix and Jaz to show him the ropes.
With their help, he might last long enough to find a way home.
But if not, at least he'll have fun hunting monsters before he dies!
Last week, you met my series protagonists Pix and Jaz, two girls who just want to hunt monsters and pay off their college loans. They were born and raised in the monster-dominated world under the Dazzling Skies, so named because its sky is taken up by thousands of glittering portals to other worlds, which constantly dump interesting loot and monsters for them to hunt –
And sometimes people for them to save.
Which makes the Dazzling Skies a perfect setting for an isekai story.
If you're unfamiliar with the word – "isekai" is a Japanese term meaning "different world" and refers specifically to light novels and anime in which a character is transported from their familiar world into a fantasy world, often with distinct video game trappings.
I was indifferent to the isekai genre when I first encountered it several years ago, but as the genre developed and began to play with and parody its own tropes, I grew to love it – especially Overlord, The Rising of the Shield Hero and – I kid you not – Reborn as a Vending Machine, Now I Wander the Dungeon (Review here, btw! 😀).
And, while I hadn't set out to write isekai stories at the inception of this series, I quickly realized that the basic structure of the world I'd set up lent itself well to such stories. This structure, in turn, would allow me to show the bizarre world of the Dazzling Skies from an outsider's perspective.
Book 2's protagonist, Kaito, is from a strange world himself – a far-future version of our world where everyone has hyper-advanced biotech altering their perception of reality, and where a particularly angry breed of cow changed the course of history – but the world under the Dazzling Skies is far stranger than anything he's ever encountered. Though, fortunately for him, it does share some similarities with his favorite Immersive Video Game series … 😉
Isekai Skies (Monster Punk Horizon #2) is set to release on Kindle Unlimited this November, and is already available for preorder.
And again, if you'd like to be one of the lucky people to read it early, be sure to join the Pug Scouts – our VIP Street Team! 😀 I'll be sending out eARCs soon, and all you have to do in exchange for your free book is post a review once the book is live!
In the meantime, keep your eyes on the blog next week for the cover reveal of Monster Punk Horizon #3!  😀
***
Note: Holo Writing is a participant in the Amazon Services LLC Associates Program and, as such, may earn a small commission from any product purchased through an affiliate link on this blog.