Another month, another audiobook! 😀 Monster Punk Horizon #2: Isekai Skies is now out on Audible and ready for your enjoyment! 😄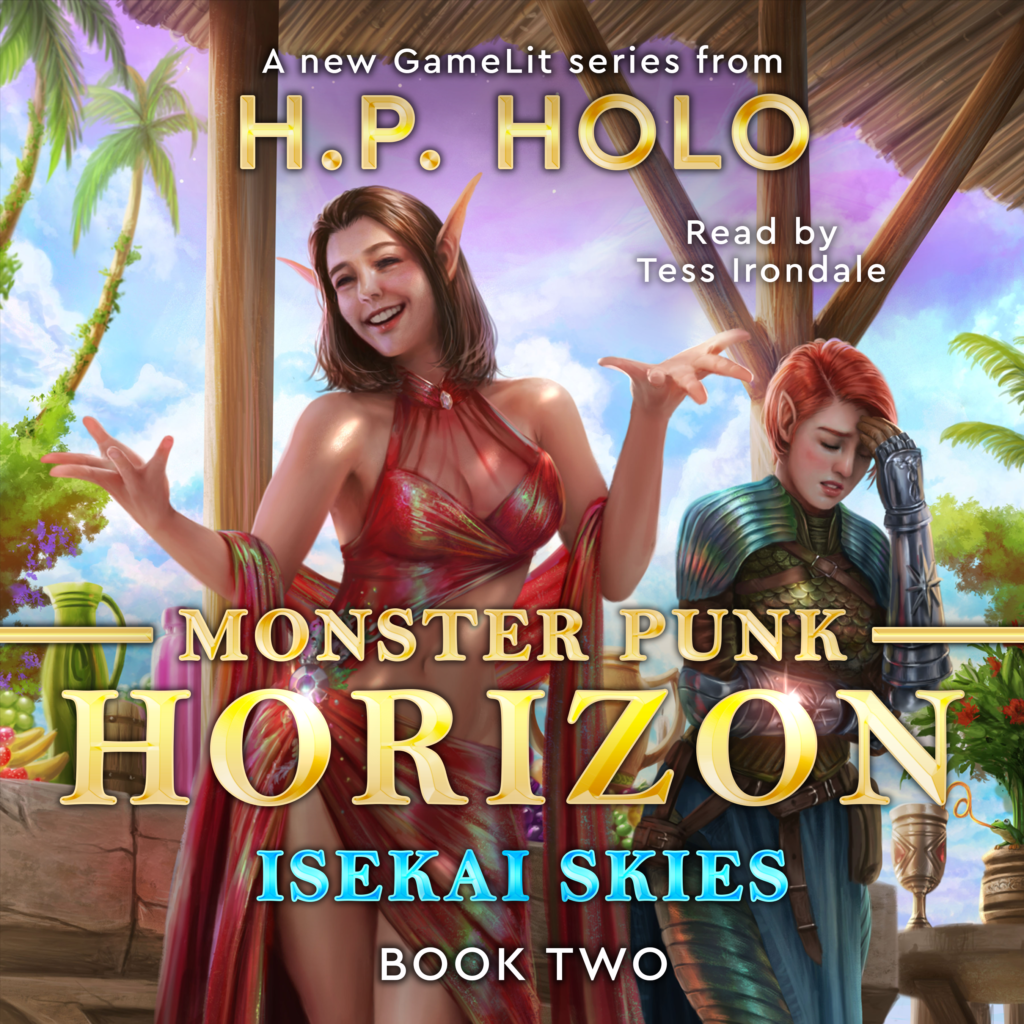 Tess Irondale once again did a fabulous job bringing all of H.P.'s characters to auditory life, and we're excited to continue sharing her work with you.
Especially since readers, thus far, seem to be enjoying Book 2 as much as – if not more than – the first one! 😄
Check out what some have had to say:
⭐️⭐️⭐️⭐️⭐️ I loved the first book with all my heart and the second one has ear wormed right into my very being! Sometimes you worry that a sequel just won't stand up to the first. Especially when the first book was as amazing as Monster Punk Horizon … but fear not. Isekai Skies has risen to the challenge and surpassed my hopes! New characters to love and new monsters to awaken our imaginations. Jaz, Pix and the Dragon Pig Pirates are kicking ass and taking names once again! Don't miss an exciting moment! On to book 3!
Frances Cooper
Amazon Reviewer
⭐️⭐️⭐️⭐️⭐️ WOW. This book is unlike any other I have ever read! Being the second book in a series, I was pretty nervous, because I feel like second books tend to be less spectacular than the first. But this sequel did not disappoint one bit! It was so enjoyable to read – there are few books that make me audibly laugh out loud, but I'm so glad that this is one of them!
The way the author ties in these classic nerdy elements is incredible and nostalgic. The character development is outstanding – the characters stay consistently themselves, so you still know and love them while reading, but they also have so much growth throughout the story as well.
I had no idea where the plot was going to go after the first book, and I definitely didn't expect it to go the way it did, but I have zero qualms about it. And the magic systems and fantasy world building is so awesome – unlike anything I've ever read. Literally, just wow. Such a fun read – can't wait to read the third book!
Melisa Longhurst
Amazon Reviewer
⭐️⭐️⭐️⭐️ … Imaginative, inventive and light-hearted …
Isekai Skies follows in the same vein as Monster Punk Horizon, where the two main protagonists Jaz and Pix become embroiled in more shenanigans. This time with the aid of Kaito, who has mysteriously been sucked through a portal from a future Earth. Kaito thinks he is in some sort of fantasy adventure, and it is up to Jaz and Pix to keep him in one piece.
I love [this] pair, they are such a refreshing change from the normal, run of the mill heroines. They are so good as a double act, and yet they are as different as chalk and cheese. I find the banter between them clever and full of humour. They are backed up with an array of terrific characters, friends and foes alike. Kaito's initial naivety does make for interesting reading as he gets to grip with his new surroundings … Isekai Skies is more character-driven than anything, and it is not surprising, considering the talent on show. That does not mean the storyline is lacking because it isn't. It is packed with action and adventure, and there is never a dull moment.
Isekai Skies is a thoroughly entertaining and engaging read, and I enjoyed every little bit.
John Derek
Goodreads Reviewer
We hope you enjoy it as much as these did! 😄