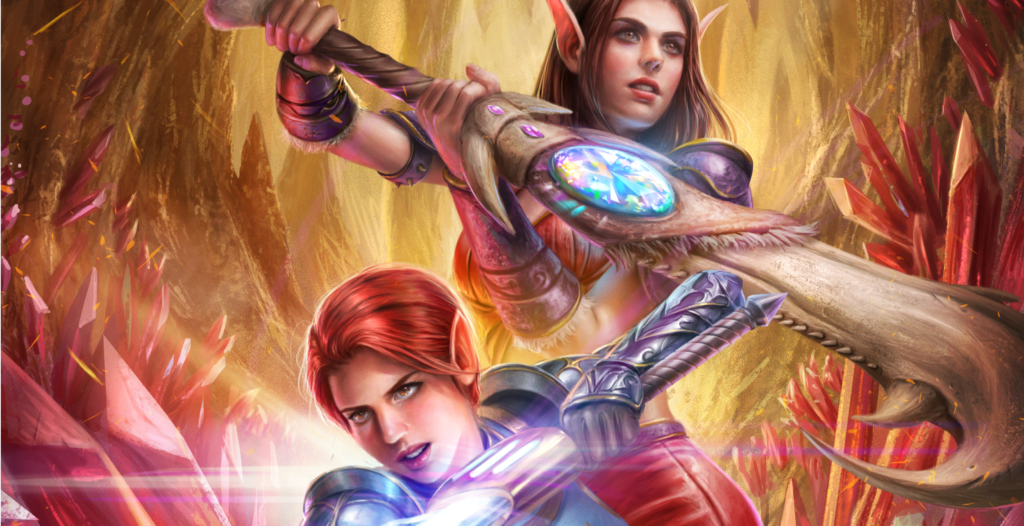 If you've been following us these past two weeks, you've seen the first two books in my new series, Monster Punk Horizon, and now Jacob and I are delighted to bring you the cover reveal for Book 3! 😀
Excess (Monster Punk Horizon #3)
by Jacob & H.P. Holo

🌟 GameLit 🌟 Crafting 🌟 Adventure 🌟 Comedy 🌟

✨ Coming December 23rd, 2021 ✨
Audio Release Date TBD

🐉🐉🐉
Loot Like Your Life Depends On It!
Losing a trusty weapon is like losing a close friend, and Pix's beloved capacitor blade is on its last legs.
Fortunately, she has a plan to craft a new, even better weapon. Unfortunately, her plan involves hunting down a vicious migrating monster that has more teeth than some hunters have brain cells. Even worse, this new creature has riled up the apex monster of Skull Harbor, and both of them are spoiling for a fight.
But Pix has one thing they don't: a party foolhardy enough to take them both on.
She'll need all the help she can get, because it'll take all their combined luck, skill, and oversized weapons to put down these two monsters. But her friends have her back. After all, there's awesome loot to be had!
If they manage to survive…
Excess is unique from the previous two Monster Punk Horizon books in that it's a collaboration between me and Jacob!
While I was writing Book 1, Jacob became so fascinated with the world he watched me create that he wanted to write a story in it – and since he was between books in the Gordian Division series at the time, he took the lore I'd already established in Book 1, created a new monster, and churned out the rough draft of Book 3 before I'd even started Book 2! 😄 I then went over it after I'd finished Book 2 and  H.P.-ified the parts Jacob had marked "write whatever here."
Excess is slightly different in style, too, in that it follows Pix more than Jaz – which is to say, it follows Jacob's Monster Hunter character instead of my Monster Hunter character. 😉
As you may have guessed from the vibe of the covers, one of Monster Punk Horizon's original inspirations came from our nights playing Monster Hunter World together. It's not quite fanfiction; in fact, my first step when designing the series was to create a world whose basic mechanics and essential history were independent of the various fictions that inspired it, but that still allowed me to pay homage to those fictions and to insert Easter Eggs for fans. 
Even so, our gameplay experience in Monster Hunter World is very much in the DNA of the Monster Punk Horizon series, and particularly in how Pix and Jaz came to be in the first place. Jacob and I have wildly different play styles, his very strategic and mine very … not.  😆 Plus, when I play video games, I have a tendency to invent headcanons totally separate from the lore of whatever game I'm playing – especially in games with stories as simple as Monster Hunter World's.
Because of that, Pix and Jaz had personalities and backstories before I even knew I was going to write Monster Punk Horizon, solely because I needed a way to entertain myself during loading screens, and making up stuff about our player characters was a fun way to do it. It's no coincidence, then, that Jaz is the Leeroy Jenkins of the pair (me), while Pix is the methodical gamer who likes to go in with a plan (Jacob). Stories told from Jaz's perspective – that is, Books 1 and 2 – are thus rather more chaotic than stories told from Pix's perspective, which I think brings a nice balance to the series as a whole. After all, even worlds as crazy as this one need a break from the craziness every now and then. 😊
Excess (Monster Punk Horizon #3) is set to release on Kindle Unlimited this December, and is already available for preorder.
And again, if you'd like to be one of the lucky people to read it early, be sure to join the Pug Scouts – our VIP Street Team! 😀 I'll be sending out eARCs soon, and all you have to do in exchange for your free book is post a review once the book is live!
***
Note: Holo Writing is a participant in the Amazon Services LLC Associates Program and, as such, may earn a small commission from any product purchased through an affiliate link on this blog.