Now that I've reached a little slow point in my writing schedule, I've been able to use that time to read a little more.
One of my most recent reads was Wraithkin, a military sci-fi novel by Jason Cordova and the first book in his ongoing Kin Wars Saga. The book starts out on the slow side, but the action and drama both ramp up steadily before ending in a satisfying bang.
Well, numerous bangs, because this is mil sci-fi after all.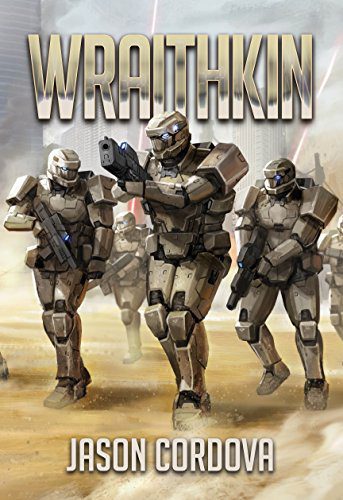 One of the things Cordova gets right is how much misfortune he heaps onto his main character, Gabriel Espinoza. Gabriel (who is given the hilarious nickname of "Omelet" during what is essentially space trooper boot camp) is the kind of person the universe will kick in the groin when he least expects it, and then kick him again while he's down just for the chuckles. Repeatedly. Seriously, the poor guy is put through more than enough to break lesser men. But he's someone who can take it, who will rise to face any challenge head on no matter how daunting or demoralizing, and that makes him a great character to follow and root for.
When interstellar war hits close to home, Gabriel enlists to join the Wraiths, an elite group of power-armored soldiers who do not mess around! That much is made clear when one Wraith recruit mouths off to their drill sergeant, and the sergeant kills the cadet by breaking his neck! Yikes! And then, because Gabriel is the misery magnet that he is, he's given the task of carting the trash (a.k.a. the body of his fellow recruit) to the incinerator.
The novel does have a few rough edges. There's the previously mentioned slow buildup at the beginning, and a few uneven patches in the prose. Wraithkin is one of Cordova's earlier works, and I think it shows here and there, but that said, his strong instincts as a storyteller shine through the minor bumps in the novel's execution, successfully pulling me into the story and investing me in Gabriel's fate.
Speaking of which, Gabriel gets knocked down, both physically and emotionally, and the good guys don't always win. Don't go into this novel expecting sunshine and rainbows at the end of the road, but if you like your military sci-fi grim, gritty, and intense, then I think you'll enjoy your time with Wraithkin. I did.